Rural crime team urge motorists to 'Think: DEER'
A rise in the number of deer-related collisions on Lincolnshire's roads has prompted a police appeal to slow down and 'think deer'.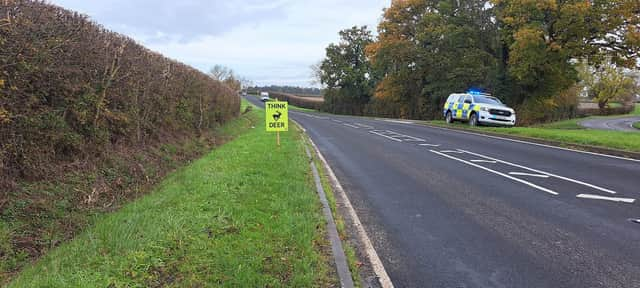 Lincolnshire Police's Rural Crime Action Team (RCAT) are urging drivers to Think: DEER after seeing a rise in the number of deer-related vehicle collisions (DVC) throughout the county.
The RCAT has installed a number of large Day-Glo signs and triangular warning signs warning of deer around areas where there have been increased deer collisions.
The highest number of incidents are reported to happen in the early evening to midnight, and then in the early morning from 6am to 9am – but it could be any time.
A police spokesman said: "Many [DVCs] are easily avoidable if motorists simply slowed down, looked at the warning signs and considered what 50kg of deer can do to you and your vehicle, or what you could do to that deer."
If you are involved in a collision with a deer, the RCAT are urging motorists to report the incident to the police immediately, calling 999 if necessary, and report the incident – do not call a friend or even someone purporting to be a deer rescuer, as very few real wildlife rescue groups can assist with a large animal such as a deer.
You are asked to provide your exact location using what3words, along with all the details of any hazard or risk to the public.
The police will call upon the volunteers Lincolnshire Deer Group (LDG) who will attend to deal with the injured deer.
It is requested that prior to the arrival of the police, a vehicle with hazard lights on is placed safely near to the deer, but under no circumstances must a member of the public remove the deer as injured deer could put up a struggle for life, and scream and thrash about in an effort to escape.
Members of the public must remain a safe distance away from the deer and not touch or stroke the injured animal.
A blanket or other covering can be placed over the deer's head to block out daylight or bright lights, as this will usually have an immediate calming effect on the animal, and voices should be kept low.
Try to stay on the scene until an authorised and trained LDG volunteer arrives, but if you have to leave, try to place a marker of some kind where the deer was last seen.
The same applies to anyone coming across a dead deer lying on the highway, as a dead deer lying in the road could cause further tragic consequences to other road users.
If the animal is dead and not blocking the highway or posing any other risk, the Local Authority should be notified to arrange collection of the animal. It can be left on the roadside verge.More information can be found at https://www.lincolnshiredeergroup.co.uk/ or www.deeraware.com