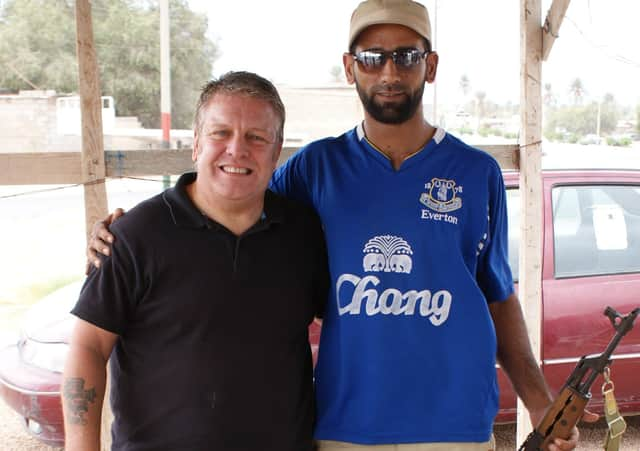 Phil at a road checkpoint in Libya manned by a friendly rebel faction. EMN-210214-175651001
The 58-year-old from Ruskington is now semi-retired from the foreign aid agency business, but he has recounted his experiences to paint a realistic picture for the public of what life is really like for aid workers - and that they are not just idealistic 'tree-huggers' or glamourous medics.
Phil served with the Royal Fusiliers for 22 years, ending up as a Colour Sergeant before spending the next 15 as a humanitarian worker overseeing safety and security in hostile locations as following natural disasters including the 2004 Asian Tsunami and the Sierra Leone Ebola epidemic.
At the end of the second Gulf War, Phil went back as a project manager for Warchild UK in Nasarea. He moved on to other organisations, eventually becoming chief of global safety and security for Save the Children, covering 64 countries in conflict and disaster zones. This led him to set up on his own advising some of the biggest charities in the world.
Phil getting the team ready to go to deliver aid in remote desert locations in Darfur, Sudan. EMN-210214-175702001
Phil now works with his wife, Valerie, supplying educational resources to British international schools around the world. With business quiet during the first lockdown, he finally got down to writing about his experiences, completing it in September.
Phil hopes 'The Humanitarian Journeyman' will illustrate the hardship and dangers these selfless volunteers face on a daily basis for months or years while helping those in most need.
He said: "Over time there are things I have done or seen that leave an emotional scar, but I have learned to put those memories to the back of my mind and not let them interfere with my daily life. My military experience helped with that, but writing the book brought some of it back and it was quite emotional, but it is back in the box with the lid on."
Paying tribute to Valerie, who shielded their young children from much of what he was doing, he has dedicated the final pages to how she dealt with not knowing if he was safe.
Phil and local children while building a new school in Kenya. EMN-210214-175712001
Phil said aid work can be very rewarding if you have the right skills, but without a strong constitution he has seen some packed off on a plane after the cracks quickly began to appear.
"I walked into a recently bombed building where there were still the remains of young children. These guys have to be strong, determined and really driven," he said.
He said there had been a time 30 years ago when both sides in a conflict respected aid agencies, but after 9/11 and the rise of muslim extremism, agencies became 'fair game'. If seen to be funded by western states they have been subject to brutality, kidnapping and TV executions.
"I have been in and out of Syria with several organisations," said Phil. "I was in Libya at the time of the revolution and when they found and executed Colonel Gaddafi."
Phil found a boat flung onto the land by the Asian tsunami at Banda Aceh, Indonesia. EMN-210214-175641001
He has been in war torn Darfur in Sudan, Afghanistan and Northern Nigeria, but he got used to sensing "degrees of threat", explaining: "During my second term in Iraq I was extremely fortunate not to have been taken at a road checkpoint. I have been taken at gunpoint in Somalia and held for 72 hours and had a mock-execution, but that didn't produce the fear of Iraq where I had an RPG rocket launcher pointed at the windscreen and an AK47 at my temple. The guards might be high on drugs or drink..."
Even working in Banda Aceh, Indonesia after the Asian tsunami, Phil had to account for risks to workers due to a rebel group fighting in the jungle for years. He recalls: "It was total devastation and I had to be on site with the projects delivering shelter, food, education, while conscious of the underlying security threat."
In Kashmir, after the earthquake, he was operating in remote mountain regions on both sides of the delicate line of control between Pakistan and India.
He said: "I came back from one intervention and my wife and kids said they didn't want me to be in that position again. But I had already come to that decision. I had used up my nine lives."
Just released, Phil's book is £16.99 through Amazon, Waterstones, Book Depository or direct from www.vpjsolutions.co.uk