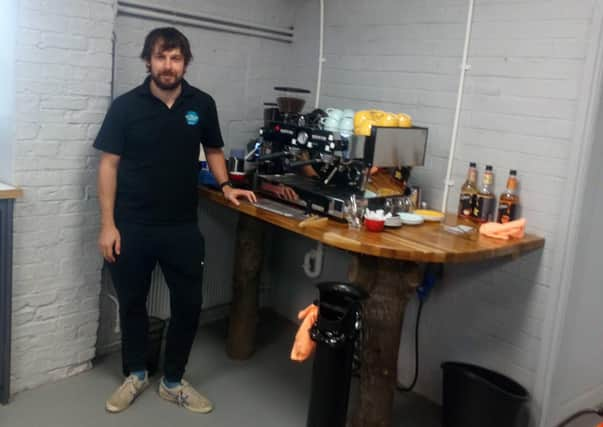 It's 18 months since he took over the Big Chair Company, just off Boston Road in Horncastle.
He's completely transformed the business from an antiques centre into a venue for high-end quirky home furnishings.
Now, Sam has launched a new venture...coffee and cakes.
He's transformed part of the building into a café and learned the art of making 
coffee – and mastering a coffee making machine – on a crash course.
With his wife baking mouth-watering cakes, Sam launched his new enterprise - A Cup Half Full - last Saturday.
And, the early signs are very positive with the café already attracting lots of 
customers.
Sam, who lives in Welton, said: "All the tables were full two or three times during the day and we were really pleased with how it went.
"A lot of people say I'm crazy to start something during Covid but it is something I've been considering for a while.
"The home interior business has taken off and we've been very busy.
"A lot of people are renovating their homes and that's the one positive of Covid.
"Customers often ask where they can get a coffee and something to eat.
"I've been sending them into town but then I just thought: 'Why don't I do something myself?'
"I'm confident it will do well.
"If there's a demand, we could add more food and drinks to the menu.
"It's a matter of seeing how things go."
Sam is well aware Horncastle is renowned for its coffee houses but is convinced there's room for one more.
He adds: "I'm not worried about the competition – they should be worried about me!
"There's no other coffee houses in this part of town.
"We've a free car park across the road (The Wong) and there's a lot of passing trade. We're doing takeaways and plan to introduce some outside seating."
His business – which features an impressive collection of Chesterfield suites – is continuing to grow.
He's taken on one additional staff member and more jobs could be in the pipeline.
• While one hospitality business launches in Horncastle, another appears to have changed course.
The award-winning Old Stables, just off the Market Place, has a sign outside which states: 'Hiya everyone! We will not be reopening as a coffee shop as you know it, for now!
"Lots of exciting developments over on FB (Facebook).
According to a listing on the Horncastle Community Support Team register, owners of the Old Stables are now a stockist of 'Frenchie' furniture paint, alongside a range of handmade, eco friendly gifts.