Scrubbers plan to support Stanhope Hall
A volunteer group, which has dedicated the last four months to making scrubs and PPE for the NHS and the care sector, say they are planning to fundraise for Stanhope Hall as a way of saying thank you.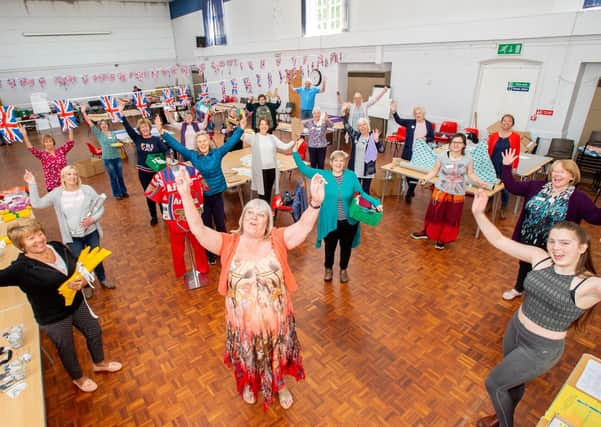 Horncastle and District Scrubbers have been using Stanhope Hall since the group was founded in April.
Volunteers have been making scrubs, face coverings, nightdresses and various other items to distribute to those in need.
Stanhope Hall, like many other venues in the county, has suffered during the Covid-19 pandemic as events and shows have been cancelled.
At this month's town council meeting, there was a discussion regarding whether Horncastle and District Scrubbers would donate any funds to Horncastle Town Council/Stanhope Hall, as the group has been using the premises free of charge.
Speaking at the meeting, Councillor Brian Burbidge said: "Covid-19 has done an immense lot of damage in loss of revenue and cost."
Councillor Alan Lockwood asked whether income had been generated through Horncastle and District Scrubbers using Stanhope Hall, and Coun Burbidge replied no.
In response to this, Coun Lockwood said: "Is there no way you can?
"I know you'll try if you can, but it seems to me it is sad that you've given up a major resource to a charity who are receiving support from all over the country when it comes to people and assets/donations that none can be directed to the place being used.
"There have been significant national pushes for scrubs as it has been at the forefront of people's minds."
Coun Burbidge replied: "I've got no idea what they have had donations wise - I believe most of it is material rather than cash.
"I don't know what their financial situation is."
Town Mayor, Councillor Fiona Martin said: "We as a town council have been bankrolling for them as they didn't have a bank account.
"The only donations they have had in a national nature are materials - it hasn't actually been cash.
"The only cash is local donations and we've been keen as a town council to ensure that we end up with a nil balance
"Obviously if they have monies left over it will be up to them to decide what to do with it.
"They may or may not think it appropriate to give Stanhope Hall a donation if they have funds left, in view of the fact that they have had the premises not only free or charge but Stanhope Hall has been providing the electricity bill, etc."
Coun Lockwood added: "I agree - it has been a considerable strain on the Stanhope Hall loss of income and actually we are still spending a lot of money running the place.
The News contacted Horncastle and District Scrubbers. Shelley Wills, one of the co-founders, said: "We've been running since April.
"We've currently got 297 volunteers and we've got 500 followers on Facebook/supporters.
"Our volunteers have been sewing, cutting fabric, making scrubs, making nightdresses for people in hospital, pyjamas, face coverings, scrubs hats - you name it, we've done it.
"Items are not just for hospitals - they are also for staff in care homes, for dentists as they reopen, chiropractors, physiotherapists etc.
"We've been raising money from the start to fund the project.
"We had a very lucky break when we were donated fabric from funds raised by Noah Evans - Chris Evans' son.
"We are still sewing with fabric donated through that.
"We've had thousands and thousands of metres of fabrics which has meant that the funds we have raised we have been able to use on other things like cotton, elastic and tape.
"We've made to date just off 3,500 sets of scrubs, and we've lost count of the number of other items we have made.
"We did make face coverings for a while but we found it was detracting too much from making the scrubs and the scrubs were the real priority.
"It was becoming too much of a primary thing and that wasn't our purpose - our purpose was to make scrubs and other things for the NHS.
"We are downsizing at the moment and we have reduced our activity at Stanhope Hall in terms of how many people we have cutting and sewing.
"We've got sewers in the upstairs room at the moment and the rest of our operation is moving up there in the next few days.
"That is potentially until the end of September.
"If we form some other sort of group that has similar aims, then we may will be looking for other premises or other ways of working but at the moment we are in that limbo bit.
"If there are people out there who would be interested in getting involved - or anybody with experience of running small community groups - get in touch.
"We would like to keep going. The sewers are very keen to keep sewing - we've actually built quite a close community here.
"We've got people that come in every day to make tea or lunches, or just to help tidy up, and we've got a group of people who do deliveries/collections so there are all sorts of roles that people have been taking on.
"We have been talking about doing some fundraising for Stanhope Hall.
"It has been our home for four months or more.
"We did ask Councillor Burbidge if there is such a group as 'Friends of Stanhope Hall'.
"Quite a few of us would be interested in giving something back to Stanhope Hall in the way of getting it decorated or raising funds for things they need.
"We have become so fond of Stanhope Hall and the wonderful facilities that we have had use of to do this work.
"Going forward we would like to do some fundraising activities to support Stanhope Hall."
• To find out more, search for Horncastle and District Scrubbers on Facebook.