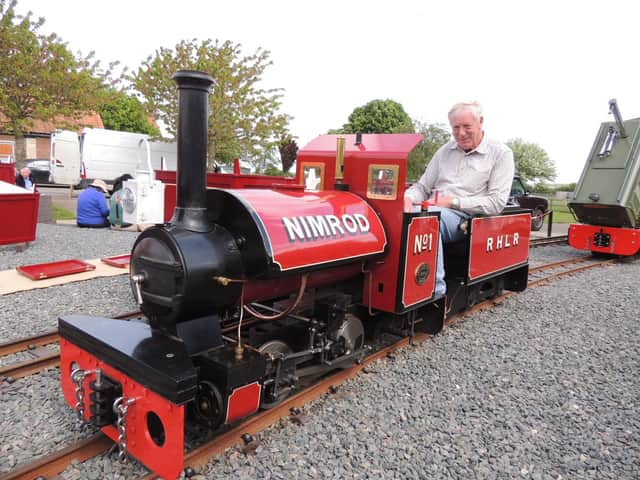 Robert Holland with his favourite steam locomtive on the Ropsley Heath Light Railway.
Robert Holland and his team have been spending any spare moment – and cash – on their goal to complete the Ropsley Heath Light Railway on land around his home.
Looking as if it has always been there - Glebe Tunnel was built out of motorway drainage pipe sections and buried under a mound of earth. The stonework matches that in Robert's own house.
Testing the water supply for the steam engines. Robert Holland's good friend and loyal volunteer on the railway, Paul Davidson.
An electric tram car named Stuart, after Stuart Revill of Kirkby Green, whose own light railway inspired Robert, with the railway's turntable beyond.
Volunteers making sure Belvoir Castle, the diesel loco, is in good running order. The rails run on raised blocks into the engine shed for easy inspection. ABOVE - friend and volunteer Paul Davidson tests the water for the steam locos. TOP - Glebe Tunnel made from buried motorway drainage pipes with stonework matching Robert's house.
Glebe Summit - the highest point on the line.
The 60 metre long garden railway has been moved to a new spot on the site.
Electrically operated crossing gates at the entrance.
Carefully labelled benches on the station platform.
Carriages being painted up in the engine shed.
The turntable is pushed around by hand.