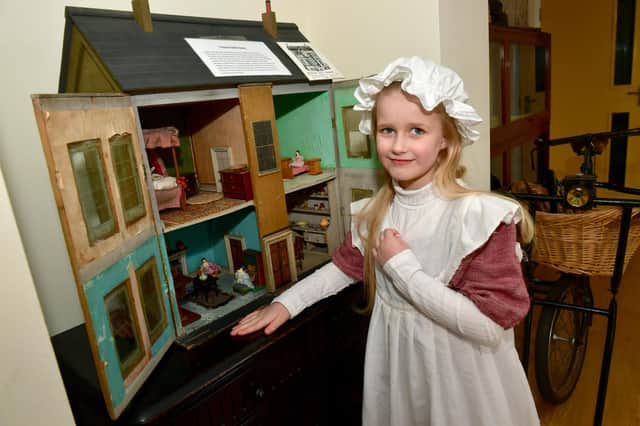 Skegness farm museum's youngest volunteer 'loves cleaning'
A Skegness farm museum's youngest volunteer skips enthusiastically across the lawn and can't resist kicking an abandoned child's space hopper toy out of the way – but then she is only six years old.
Published 6th Mar 2023, 18:16 GMT
Meeka Ellis is heading for the 18th Century farmhouse – the oldest house in Skegness – where she has been busy polishing a dresser and helping another volunteer clean up.
It's been a busy time for volunteer-led The Village Church Farm, where preparations are taking place for Easter visitors and an action-packed new season, including re-enactments, a 1940's event and a special celebration to mark the Coronation.
"My favourite thing is cleaning," said Meeka, the daughter of manager Naomi Walton, whose first visit to the museum was when she was two days old and can often be seen helping out and chatting to visitors. Pointing at the dresser in the farmhouse she explained: "We got some beeswax and a cloth and rubbed it until it was smooth. It smells lovely.
"I like dressing up for events, too, especially the Steampunks one – I was given some goggles last time and love them."
Mum Naomi is very proud – as she is of all her volunteers. "Meeka has grown up here and loves helping – there's never a dull moment with her," she said.
"But I know when she's off with the other volunteers she is safe."
Along with plans for new additions to the events calendar, this is an exciting year for The Village Church Farm. It is currently undergoing a rebranding after fears many visitors to Skegness may have missed the opportunity to explore this important part of the town's heritage, spanning over 300 years, which is tucked away in the middle of a housing estate.
Naomi explained: "We are working on the new name now. A museum is not something you expect to find in the middle of a housing estate and although there are signposts to us we don't think the name The Village Church Farm is very clear."
Before Lincolnshire County Council handed it over to become a charitable organisation in 2011 the attraction was named Church Farm Museum – giving visitors a better idea of what they could expect.
The museum was founded in 1976 as part of the Museum of Lincolnshire Life by Lincolnshire County Council. As well as the farmhouse dating back to the 1700s. buildings include traditional Lincolnshire 'mud and stud' cottage furnished with late 18th century fixtures and fittings, a farmhouse dating from the late 18th century decorated in keeping with the early 20th century, a washhouse with vintage washing equipment, stables, a brick barn and wagon hovel with a temporary exhibit space, a timber-framed barn housing a Hornsby traction engine, and a collection of workshops including a blacksmiths.
The four-acre site stretched across town to the railway station before the then owner, the Earl of Scarbrough, sold plots off when Skegness started to become a popular seaside destination.
"That's why the museum is in the middle of a housing estate but we are hoping more people will understand what we are after the rebranding," explained Naomi.
Currently there are around 30 volunteers but Naomi said more are always welcome. She has been manager since last year but before that she was a volunteer for 10 years, following in the footsteps of her father, Mike Walton, who is still involved and runs the traction engine.
"I've always had a keen interest in history so after college, when this opportunity to be manager came up I jumped at it," she said.
Assistant manager Maxeen Andrew also started out as a volunteer. "I'd retired after a career with East Lindsey District Council and was starting to climb the walls, so I came to give myself something to do," she said.
"Now I love it – we are like a family here but without the volunteers people would not discover what a special place this is."
Volunteer Barry Pargeter popped by after finishing the day's chores cleaning the farmhouse with Meeka.
"I've been a volunteer since 2011," he said. "It gets you out and there is plenty to do.
"Mainly I help with the cleaning or in the garden, but I also like to help at the events."
For Naomi and Maxeen, their favourite time is early evening when darkness falls. "There is no light pollution here," explained Naomi. "It is just so peaceful here – it grounds you.
"In the summer my favourite place is the garden at the mud and stud cottage. When it is full of flowers it is lovely to just sit there and zone out."
Naomi remains open minded about whether the buildings are haunted, although paranormal events are a popular feature on the annual calendar.
"There was one time when we were shut in the farmhouse and the door handle of a room that was empty started to rattle," she recalled. "No-one could have got in there from outside and we can't explain it. But it isn't a place to be scared. It's so peaceful here the rest of the world just disappears."
Events for 2023 are currently being finalised but dates will be shared on The Village Church Farm Facebook page.
Anyone interested in becoming a volunteer can contact Naomi and Maxeen by calling 01754 766658.