Skegness' Tower Esplanade shines blue in support of Key Workers
Skegness' Clock Tower and the new lighting display in Tower Esplanade are shining blue in support of the country's Key Workers.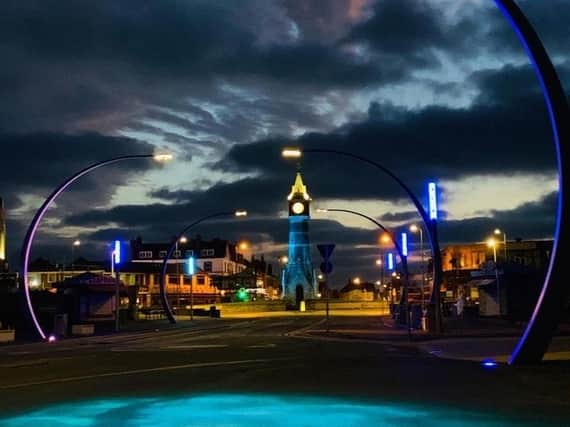 East Lindsey District Council switched the lights blue in time for last Thursday's #ClapForOurCarers and they will now remain blue every evening to shine a light on the vital work being done by key workers across the UK.
Having blue lights in Skegness follows other landmarks in the county, including Lincoln Cathedral and one of the extreme rides at Fantasy Island in Ingooldmells.
The lighting in Tower Esplanade, which forms a gateway to the coastline in Skegness and has been nicknamed the 'whale lights', was officially switched on last month but lockdown has prevented tourists from enjoying them.
They are part of a major refurbishment programme on Tower Esplanade, as one of the first projects to be taken forward from Skegness' Foreshore Masterplan.
The £400,000 investment in this area has seen the paths on either side of the Esplanade resurfaced, new granite benches installed, new marine grade stainless steel litter bins and a major bespoke lighting scheme with 8m curved lights that are backlit (with interchangeable colours) and project moving images onto the paths below.
Local photographer John Byford was first to come up with the idea of the tribute for key workers after capturing the Clock Tower when it was blue before it changed colour.
"I just thought it would be a lovely tribute from Skegness for the NHS and key workers," he said. "If Lincoln Cathedral can do it, I thought Skegness could do too."
Mr Byford spoke to East Lindsey and Skegness town councillor Steve Kirk who agreed to discuss the idea with the authority.
The Skegness Standard also asked on social media what the public thought and there was a huge response in favour of the idea.
Coun Steve Kirk, Portfolio Holder for Coastal Economy, said: "Whether it's the amazing NHS and care staff who are saving lives on the frontlines, or the shop workers, manufacturers and countless others helping the country to keep going at this difficult time – each and every key worker is doing a tremendous job.
"Turning our new lights on Tower Esplanade blue is a token of our gratitude and appreciation for the incredible work and the inspiring commitment those workers show every day."
*#Clap for Carers takes place every Thursday evening at 8pm, when the public is asked to make a noise to show their appreciation.