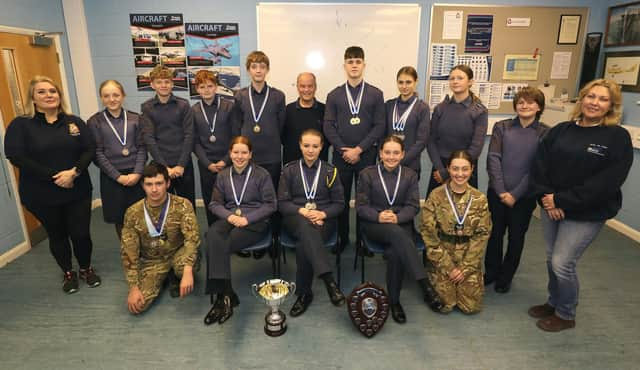 It was a return to winning ways as 2160 Squadron's team claimed overall victory at the Trent Wing Air Training Corps Swimming Championships, held at RAF College Cranwell pool.
The cadet team, of experienced and novice members, excelled in virtually all categories, piling up the points to gain second place in the senior boys' and senior girls' competition, and winning two of the three relay events.
The overall winner's trophy went to Sleaford, along with a glittering array of individual medals, as outstanding performances in the relay events added another trophy to the squadron's haul.
Commanding Officer, Flt Lt Karen Turner praised the team for their amazing achievement and the staff team of CI Jim Forrester, Cpl Sam Dean, CI Louise Dean and team manager, CI Rebecca Gaywood.
Individual medallists were: Senior Girls: – breaststroke - Cdt Alissa Mamentovych – Gold; backstroke – Sgt Charlotte Linger – Silver; freestyle – Cpl Meredith Rutland – Bronze; Senior Boys: – breaststroke – Sgt Edward Briggs - Bronze; backstroke - Cpl Charlie Donnor – Bronze; freestyle - Cpl Charlie Donnor – Silver; Junior Boys: – freestyle – Cdt Andrew Mamentovych – Gold.