Sleaford train station set to close all ticket office windows
​Customers travelling on trains from Sleaford may soon lose their ticket office if new proposals go ahead.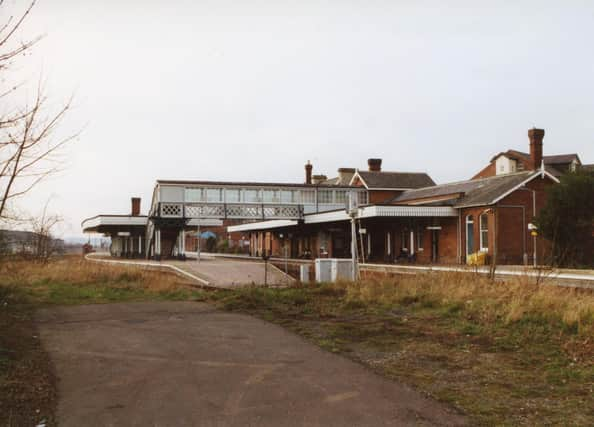 ​It has been proposed that the ticket office at Sleaford railway station will close in September, with staff moved to other stations.
Instead the station will only be visited weekly by "mobile colleagues" according to a statement from East Midlands Railway.
If the plan goes ahead, the nearest customer information centre for rail travellers will be either Lincoln or Nottingham, and tickets and other services can only be accessed at these centres, EMR's website or through the app. It comes as part of a nationwide announcement of plans by rail operators to do away with dozens of ticket offices.
At present, ticket office windows at Sleaford are open from 7.30am to 1.30pm, Monday to Saturday.
East Midlands Railway stated: "This proposal forms part of plans to modernise the railway and bring it more in line with modern consumer expectations.
"It reflects the significantly reduced usage of ticket offices over the past decade as customers move to alternative, more convenient ways of buying tickets."
Back in the 1990s, more than 80 per cent of all tickets were sold at ticket offices, compared to just 12 per cent nationally and less than five per cent at EMR stations on average today.
"We will continue to meet all our commitments on providing accessibility for passengers, including passengers with reduced mobility and people requiring in-person assistance," they stated.
People wanting to comment on the consultation should go to eastmidlandsrailway.co.uk/modernisation-consultation.
Customers can also have their say by contacting Transport Focus, the independent transport user watchdog, by emailing [email protected] by Wednesday, July 26.
Town councillor Dave Darmon is urging locals to sign the national petition against the plans and has put it on the agenda for discussion at the next town council meeting.
He said: "People in the main are outraged by the proposed changes."
Town and district councillor, Linda Edwards-Shea, said she and two others collected 84 signatures in two hours for a petition asking MP Dr Caroline Johnson to raise the issue in Parliament.
She said: "Sleaford is a junction station so is busier than most in our area.
"Most of the time it's manned by one employee. She works 36 hours per week from Monday to Saturday.
"The employee at Sleaford station does a lot more than sell tickets. She also sells a lot of railcards, deals with enquiries, reserves seats and deals with lost property.
"When the ticket office is open the waiting rooms and passenger toilets are also open.
"In Sleaford, we have a lot of passengers who can't use the ticket machine for a variety of reasons.
"Elderly and disabled people will effectively be prevented from buying tickets. The machine can't be used for buying tickets with certain discounts and can't be used to purchase railcards. What will passengers do when the ticket machine doesn't work?"