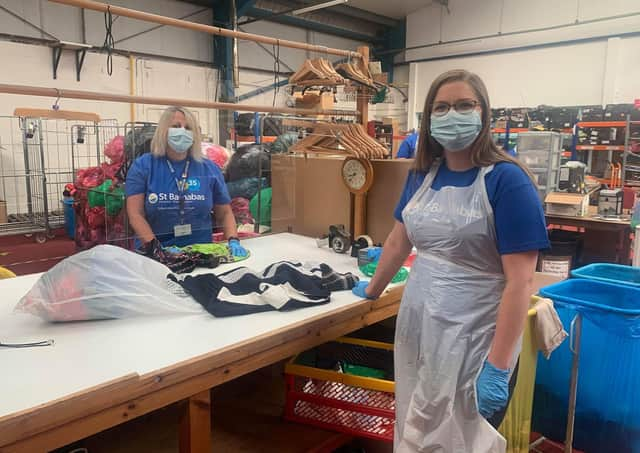 Sorting bags at the St Barnabas Hospice warehouse after the drive-thru donation scheme. EMN-200716-131130001
The Hospice has been busy during the pandemic in preparing its stores for reopening and now needs some help to kickstart the organising and selling of the 4,150 bags it has had dropped off since it started accepting donations again.
Steve Bond, Volunteer Services Manager said: "We have been bowled over by how generous people have been with regards to donating. Clearly the lockdown period was a motivation for plenty of people to go through their homes and have a good clear out and we're so pleased to be able to benefit from this.
"As some of our volunteers are unable to return to work just yet, we're looking for more staff to give up their time and to help us by working in our charity shops. We'd urge anyone interested to come and have a chat to us or to read more via our website at www.stbarnabashospice.co.uk to find out more."
The St Barnabas Hospice shop in Lincoln Road, Sleaford. EMN-200716-131201001
Volunteers can see what vacancies are available and choose their location, with opportunities available both in-store and in the charity's warehouse in Lincoln.
Steve added: "This is an excellent opportunity for those who may have been made redundant or need some work experience. It's a really effective way of expanding your skills and can mean your CV stands out from the rest if there isn't a gap in your work history."
The Hospice is able to take on anyone over the age of 16 but is also able to give positions to those 14 or over who are completing their voluntary work sections of the Duke of Edinburgh Award Scheme.
St Barnabas has 26 shops across the region and since 2012, the hospice has sold around 750,000 items with a turnover of more than £16million for its essential end of life care and associated services.
The St Barnbas Hospice book shop and charity shop on Ruskington High Street South. EMN-200716-131146001