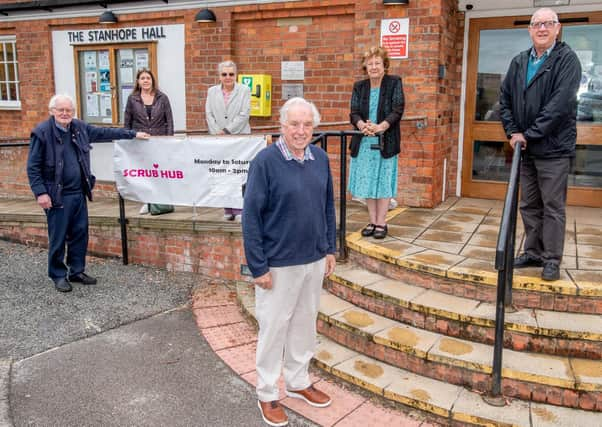 Stanhope Hall became the centre of operations for the Horncastle Scrubs Team, which was providing valuable clothing and masks for the NHS and local care homes. The hall was provided free of charge by the trustees throughout, as they were keen to support the 'Scrubbers' and the good work they were doing for the community as a whole.
The size of the premises made it ideal for a large group of volunteers to carry out their work, within the rules of social distancing.
In addition to making up the garments, there was space too for storing the donated and purchased materials.
Sewers and cutters were able to work in separate areas and the admin team, needed to keep track of the materials, the volunteers working from home and distribution of the completed garments, were also comfortably housed within Stanhope Hall.
The kitchen was used by more voluntary staff, keeping the teams supplied with tea and coffee.
Now, with the return to work for more and more of the volunteers, the scrubs group is likely to downsize, but carry on working in the near future.
However, Stanhope Hall remains a focal point for many groups and organisations both within the town and the nearby villages.
A charity was established and the Stanhope Hall is now run by a small group of trustees, with a sub-lease from Horncastle Town Council.
They are dedicated to maintaining the facility for the benefit of residents.
As soon as possible, the Stanhope Hall will be reopening, but more help is needed to keep the hall open and maintain the ongoing improvements.
Trustee chairman Brian Burbidge said: "Hopefully, the same community spirit that was apparent during the height of Covid-19 will continue, and people will see the need to keep the Stanhope Hall open for business.
"Horncastle pulled together during the pandemic, and as well as the Horncastle Scrubs team, people volunteered to deliver prescriptions, to shop for those unable to leave home, be foodbank volunteers, as well as the large number of key workers keeping the town ticking over.
"It was and is a magnificent effort by all involved.
"If a few of those volunteers would join us, we would be very grateful.
"We are not at a stage where the hall is in danger of being closed, but we do need help."
The trustees now number only seven volunteers, who are responsible for the running of the hall.
A booking clerk, caretaker and cleaners are employed to maintain the daily running of the premises.
Most of the maintenance needed is completed by local tradesmen, but as with any organisation there are decisions to be made by the Trustees.
Anyone wishing to help - or to find out more about what is involved, can contact Brian by email through the Stanhope Hall website contacts page at www.stanhopehall.co.uk.
Alternatively, call Julian Millington on 07985 372871.