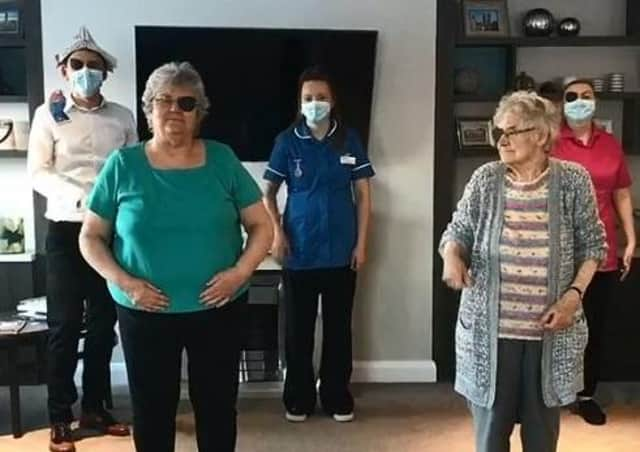 A still from Avocet House's viral Wellerman hit, which to date has had 1.2m views and more than 133,000 likes, and 2,000-plus comments. Pictured (back , from left) Krzysztof Krzysztofiak, Charlotte Pollard, Jessica Broadbent (front, from left) Rose Saward and Shelia Pacey.
The 13-second clip was shared on the social media platform TikTok by Avocet House Care Home, in Wyberton.
It showed home manager Krzysztof Krzysztofiak, activities coordinator Jessica Broadbent, care assistant Charlotte Pollard, resident Shelia Pacey and Rose Saward, a resident at the time, dancing to Nathan Evans' viral sea shanty Wellerman.
The home has been using TikTok recently, finding it to be a simple way for all there to have fun. It decided to share a video of staff and residents dancing to Wellerman after seeing others do the same. It has now been watched 1.2m times (find it at www.tiktok.com/@tanglewoodcarehomes).
Krzysztof said: "We are all so happy at the reaction to our TikTok, its astonishing to us all. It was a bit of fun and we never expected to receive such an overwhelming reaction. We are both stunned and delighted!
"Posting TikToks is relatively new to us," he continued. "Like many people, we discovered it was a good way to have fun while the country is locked down. We immediately loved it and found it was great way to boost everyone's spirits and have some laughs. We will most definitely keep posting TikTok videos."
Shelia, 85, said: "It was great to have a bit of fun and a laugh with TikTok."
Rose, 63, added: "I really can't believe how many views our video has had!"
Jessica said: "I was utterly amazed at the response we received from our video. We wanted to do something fun to cheer people up during lockdown, but we didn't realise how much of an impact it would have. We've had so many lovely comments on the video and we're all so happy that we made people smile!"
Charlotte added: "Thank you all for all your amazing comments and views we are so happy and amazed!"