Supplies and aid from Horncastle safely reach Ukraine
After a second successful mission to bring aid to those fleeing conflict in Ukraine, it's been confirmed that the supplies brought by a team from Scrivelsby have safely reached their destination.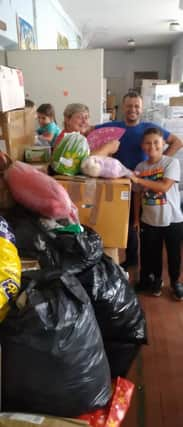 Earlier this month, Helen Bayly-Stark, her son Jonty, 25 and Tim Haller transport much-needed supplies to those fleeing the conflict and to bring eight refugees and a dog called Mr Poops back to the UK.
The team set off on August 10 with a van, loaned by St Hugh's School in Woodhall Spa, full of donations of medical equipment including bandages crutches, medical supplies, Tena pads, nappies and more, returning five days later.
It's now been confirmed by Helen that the supplies have safely arrived in Ukraine and are currently being sorted and distributed to those in need.
To make a donation for the team to run a third mission to Ukraine, visit their GoFundMe page at