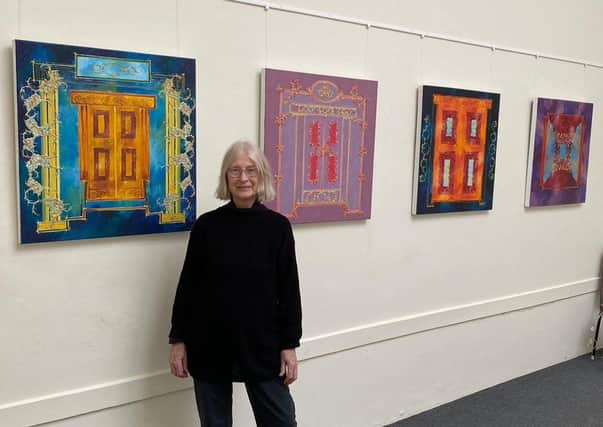 From this week until April 30, you can explore Susan's work at the Orchard Gallery, Gunby Estate, Hall and Gardens run by the National Trust.
Susan's paintings contain illusions, metaphors and references to art of the distant past, but they also can be viewed as "decorative and ambiguous surfaces involving playful processes and patterns that sometimes undermine assumptions about perspectives, depth of field and figure and ground relationships".
Susan, who lives near Louth, studied painting in the 1960s, gained her MA in 1995 and completed her MPhil thesis in 2000.
Her work has been exhibited since early solo shows in 1970s.
Susan's most recent solo shows have been exhibited as 'Divertimenta' and 'Elusion and Revision'. She also reaches wider viewers in selected online exhibitions.
After a lifetime of studies in art and art history, the impact of the Roman wall paintings was a revelation and Susan felt compelled to engage with its intrigues, clever perspectives and conventions. Not only false doors but also windows, frames, views and shrines are suggested. A recurring element is the apotropaic sign which guards against the insecurity of these liminal spaces – so the liminal space here becomes a painted metaphor for feelings of uncertainty.
After a visit to Crete and particularly Knossos and Heraklion, she was motivated to respond to the even older fragments paintings from about 1600 BCE but to tie them into the themes of the rest of her work. A common denominator is a fascination with the aesthetics of decay.
Susan was delighted to discover a resonance between the paintings and aspects of the gardens at Gunby Hall, particularly the arbours, arches and doors in walls. Trompe-l'œil apertures and gardens are very much part of the Roman painting that she has drawn on in her work.
'False Doors and Timeless Thresholds' will be in Orchard Gallery until April 30. The gallery, tucked away in the walled gardens, is open daily from 10am to 4pm. Admission is included in the entry to Gunby.