Sutton on Sea's holly-themed mural to commemorate sunken forest
Part of Sutton on Sea's incredible history has been immortalised into a holly-themed mural at the new Colonnade.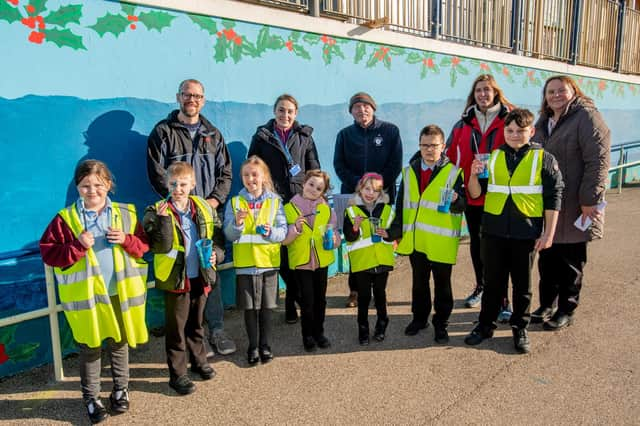 Local painter Laura Lilley and her husband Matthew have been giving the Triangle wall in the communal area of the Sutton on Sea Pleasure Gardens and Colonnade a new look.
The new mural features a holly theme, to commemorate the holly in the sunken, petrified forest found under Sutton on Sea.
East Lindsey District Council have been working with Sutton on Sea Gardening Group, who approached artist Laura to paint the mural dedicated to this historic holly.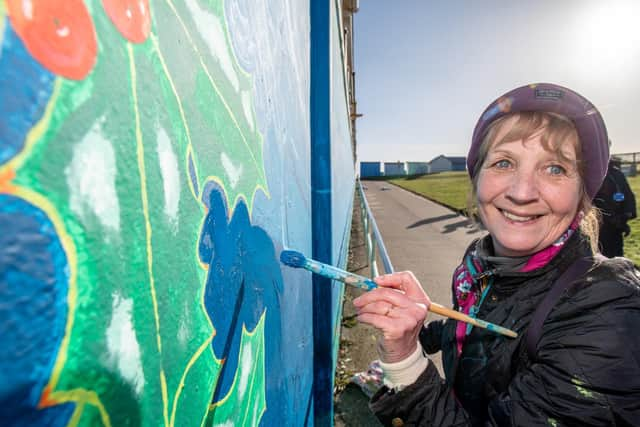 Sutton on Sea was not always the coastal town we know and love, as it was connected to the east coast of Britain with the Netherlands more than 10,000 to 12,000 years ago, and is now known as Doggerland.
It gradually became inundated by the sea as the climates changed and sea levels rose, and the forest beneath was frozen in time.
Famous botanist Sir Joseph Banks was greatly interested in this submerged forest, and in September 1796 he visited Sutton on Sea [le Marsh] with Dr Joseph Correa de Serra, who published an account of it in Philosophical Transactions:
'The 19th of the month, being the first day after the equinoctial full moon, when the lowest ebbs were to be expected, we went in a boat, at half-past twelve at noon, and soon after set foot upon one of the largest islets then appearing.'
Paul Scott, trustee and curator of the Sir Joseph Banks Centre, said: "What they found was truly amazing, roots, trunks, branches, and leaves of trees and shrubs, intermixed with some leaves of aquatic plants.
"They recorded the species of many of the trees and plants including leaves of Ilex aquifolium or Common Holly."
Banks added the specimens into his extensive herbarium and when he died, they eventually found their way into the Natural History Museum as part of the Banks' UK herbarium collection, where they can still be seen today.
Over the last 100 years, the erosion of the coast in Mablethorpe and Sutton on Sea has exposed the petrified forest beneath.
This information will all be displayed as part of the new heritage trail at Mablethorpe to Sandilands.
Laura and Matthew have been giving their time for free to pay tribute to this incredible find, as this area of Sutton on Sea has a special place in their hearts, as they got married on the beach there in June 2022:
"It was raining that day so we needed lots of big umbrellas!" Laura recalled.
Over the past few weeks, different church and gardening groups have been joining them, and most recently, pupils from both Grimoldby and Sutton on Sea primary schools also came along to make their mark, with Mr Scott joining them on the day to help paint the mural.
Laura said: "The kids were brilliant and went away saying it was their best school trip ever!
"We've also run a competition where the children draw what they think the frozen forest looked like, and the winners will have their work displayed in the Colonnade's new art gallery."