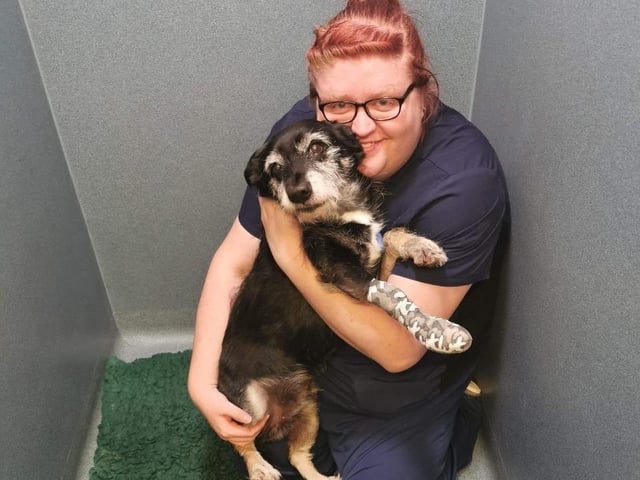 Vets Now emergency nurse Alana Taylor
Emergency vets at pet emergency service Vets Now treat an average of six dogs a day for suspected haemorrhagic gastroenteritis, a bacteria that attacks and damages the lining of the gut, causing bloody vomiting and diarrhoea, across their network of out-of-hours clinics and 24/7 hospitals.
While the teams are unable to say whether any of these cases are linked directly to flood waters, they are urging dog owners to be careful when walking their dogs in flooded areas.
One of Vets Now's emergency nurses in Lincolnshire, Alana Taylor, said: "We've not seen any cases in our emergency clinic in Lincoln that we can link directly to flood water but ingesting any water outdoors is certainly a potential risk factor.
"And of course, there are specific risks with flood waters as the water could be contaminated with sewage, bacteria and parasites. You should always avoid letting your dog swim in flood waters, and avoid walking through contaminated areas.
"If they do come into contact, you need to rinse them down immediately.
"Be extra mindful of persistent vomiting and diarrhoea and to call your vets immediately.
"Take extra hygiene precautions for yourself by deep cleaning any mess areas and thorough handwashing."
PDSA vet Anna Ewers Clark has also offered some advice after seeing a number of cases at their clinics across the country:
"We would always advise keeping your dog away from flood water, and it's very important not to let them swim or drink from the flood water as it can contain harmful bacteria, especially as it is often contaminated.
"It's better to carry a supply of water and a bowl which your dog can drink from safely."
Anna said that as flood water is usually dark in colour, so it can be difficult to assess the depth of the water and there can be very strong currents - especially in flooded rivers - which might not be visible from the surface.
"Flood water can also contain lots of debris or sharp objects that could hurt or cut your dog," she said.
"If you are walking in a flooded field or near a flood, we would recommend keeping your dog away from the flood as much as possible by calling them back or putting them on the lead in order to keep them safe."
PDSA has a dedicated section of their website on keeping your dog safe during flooding, which can be found at www.pdsa.org.uk/floodadvice
HGE occurs when fluid, protein and red blood cells leak into the gut. Left untreated it can quickly lead to life-threatening dehydration, and in some cases septic shock, as a consequence of a dramatic drop in blood volume and the immune system being overwhelmed.
While no one knows the exact origins of all the causes of HGE, it's believed a proportion of the most serious cases are caused by a bacteria called clostridium perfringens, which is commonly found on raw meat and poultry.
Other theories have ranged from parasites and toxins to allergic reactions to food.
No one is completely sure what causes HGE, but tends to be more common in small breed dogs especially Yorkshire Terriers, Miniature Schnauzers and Maltese.
Symptoms of HGE include diarrhoea and vomiting often containing blood, a painful abdomen, pale gums, lethargy and a reduced appetite.
If you are concerned that your dog has contracted the illness, contact your vet straight away as if your dog isn't treated quickly, HGE can become a very serious condition and, in some cases, can cause death.
However, if HGE is treated quickly, usually with a drip to give lifesaving fluids, anti-sickness medication, small bland meals and antibiotics, it is likely your dog will make a full recovery within a few days.