Terminally-ill Colin has final tractor ride thanks to Butterfly Hospice
A palliative care patient was able to sit on his favourite Massey Furguson vintage tractor for the last time thanks to the Butterfly Hospice and the local agricultural community.
Colin, 81, from Edlington, has worked in agriculture his whole life and is receiving care at Butterfly Hospice after a cancer diagnosis.
As staff at the hospicegot to know Colin, his love of vintage tractors became very clear and he enthusiastically shared with staff details of his favourite tractor, the Massey Furguson, which he had driven years previously at the Lincolnshire Show Steam Rally – an event he attended every year without fail.
The team quickly began working on making Colin's dream to sit on a Massey Furguson once more come true.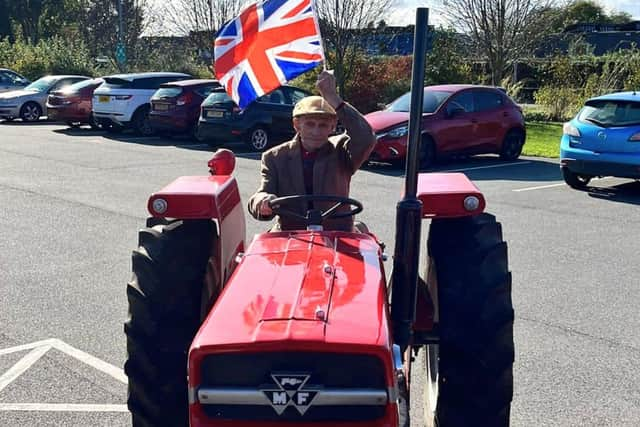 Working in partnership, the staff from Lincolnshire Community Health Services NHS Trust (LCHS) and the Butterfly Hospice Trust, made arrangements with the local agricultural community for a troupe of seven vintage tractors to visit the hospice on Saturday (October 14).
Hospice staff invited family and friends, and welcomed Colin's family too, for the occasion and they shared tea and cakes as they looked on with appreciation at the machines that had brought so much joy to Colin throughout his life.
Holly Watson, LCHS Clinical Team Lead at Butterfly Hospice, said: "We told Colin what we had planned and he made sure that he was appropriately suited and booted for the occasion.
"Naturally, he found it quite overwhelming and was very heart warmed that the team had made this happen for him.
"We have the most incredible team at the hospice who go above and beyond to make every patient's journey personal to them and we're very lucky to work so closely with the Butterfly Hospice Trust team who support us to make these types of things happen."