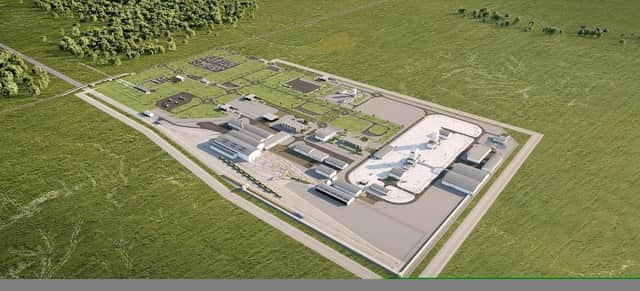 Theddlethorpe is one of four locations in the UK that could potentially have a Geological Disposal Facility (GDF) developed in the area, and the Theddlethorpe GDF Community Partnership are running a series of Q&A style events to provide information to show what is involved.
A GDF is an underground facility designed to dispose of higher activity radioactive waste safely and securely.A team of geologists, engineers, and nuclear and environmental scientists will be on hand to chat to people and answer their questions, to help them understand what geological disposal is and find out more about what a GDF could mean for the community.The Community Partnership is a group made up of local people, local authorities, and NWS, (the GDF developer), to consider the potential of hosting a GDF within the identified Search Area, that includes the electoral wards of Withern and Theddlethorpe and Mablethorpe.
Jon Collins, Interim Chair of the Theddlethorpe GDF Community Partnership, said: "These are our first community events this year aimed at continuing a conversation with local people about what a GDF is and what it could mean for the local area. Responding to feedback and requests for events and information, the Partnership are keen to make sure people have their concerns and questions answered at events like these throughout the year.
"Ultimately it will be local people living in the area around any eventual development, that will decide in future, whether or not a GDF is built here. However, before the question is asked and the decision made, the Partnership aims to ensure that the community has all the information it needs to make that an informed decision, based on the facts."
People attending The Big Picture will be able to view a selection of short films, then take the time to speak with a team of experts and have the chance to get answers to their questions and further information on the GDF project.
A model of what the GDF surface site could look like will be on display, alongside items of interest such as fuel rods, and geological rock samples, plus maps and information boards, where people can post comments and questions on key topics.
Films will start showing promptly at 6pm or 12 noon and people need to arrive beforehand. These events are structured with timed activities and are not drop in events. There will be time before the films and Q&A begin, to speak to the team and look at the information on offer.
Big Picture events are taking place on the following days:
Thursday 23 February 5pm – 8pmWithern Village Hall, Alford Road, Withern, LN13 0NF
Friday 24 February 5pm – 8pmTheddlethorpe Village Hall, Silver Street, Theddlethorpe St Helen, LN12 1PA
Saturday 25 February 11am – 2pmTrusthorpe Village Hall, Sutton Road, Trusthorpe, LN12 2GN
Tuesday 7 March 5pm – 8pmAby Village Hall School Lane, Aby, LN13 0DL
Wednesday 8 March 5pm – 8pmLouth Town FC, Marshlands, Main Road, Saltfleetby, Louth, LN11 7SS
Friday 10 March 5pm – 8pmGrimoldby & Manby Village Hall, Tinkle Street, Grimoldby, Louth, LN11 8SW
Saturday 11 March 11am – 2pmSaltfleet Social Centre, Sea Lane, Saltfleet, LN11 7RP
For further information visit the Community Partnership website:https://theddlethorpe.workinginpartnership.org.uk