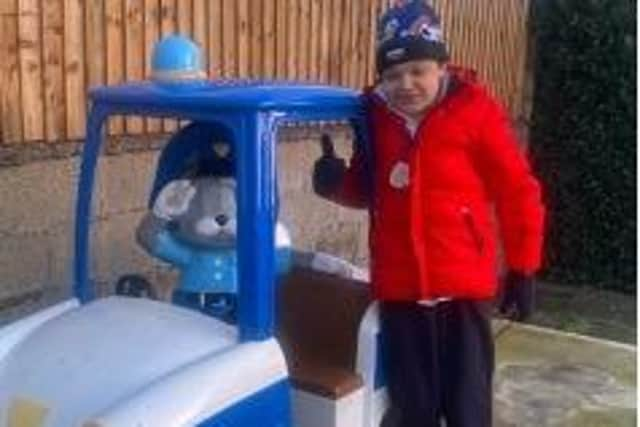 Fantasy Island has gifted its 'Jolly Roger Sergeant Stripes' ride to Mikko Astlefor to experience in the comfort of his own garden.
Mikko, aged 15 from Derby, is a superfan of the CBeebies television programme and has ridden the coin-operated ride at Fantasy Island many times throughout the years.
However, during his last visit in late 2022, the youngster noticed the ride was off duty for guests.
His father, Steve Astle, contacted the award-winning theme park to see if he could purchase the ride for his son, who lives with autism.
The Astle family are well-known to the Fantasy Island team and due to the young boy's story and love for the CBeebies character, they decided to gift the ride to him for Christmas, as well as paying for its smooth delivery to Derby.
Steve commented: "Mikko is diagnosed with a rare disorder called MPS1 and has autism. He has always had an infatuation with children's rides, and we would regularly drive two hours to see Sergeant Stripes at the factory where the ride was made, before it was moved onto Fantasy Island theme park.
"When Fantasy Island contacted us and said the team would love to gift Mikko the ride, we were really emotional. It can be tough living with two special needs children, so this gesture was overwhelming.
"Mikko now has the ride at his grandma's house and wants to go every day, he even has plans to refurbish it - it really has given him a project and sense of purpose. We can't thank the Fantasy Island team enough for going above and beyond for our little boy."
Heidi Watson, spokesperson for Fantasy Island, said: "Mikko and his family have been regular visitors to Fantasy Island, and we've absolutely loved seeing them experience our theme park over the years.
"I'm delighted that as a team we could make Mikko's Christmas dream come true and we hope this gives him years of joy with Sergeant Stripes as it has with our customers at the park."