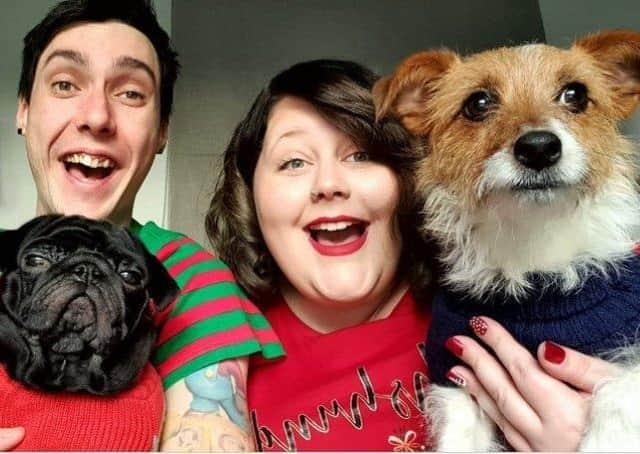 Andrew and Jade Scott and chums
As Jade's younger sister, Faye, says: "They have so much damn love to give."
Sadly, the couple - who live in Horncastle - have been denied what they crave more than anything else in the world...children.
And, it's a cruel twist of fate that they've been denied the simple joy so many take for granted.
Unfortunately, Andrew has been diagnosed with male factor infertility.
This means the chances of Andrew and Jade conceiving naturally are practically zero.
They've been trying for five years.
What's even more unjust is that there is no help available to them due to Jade's BMI (Body Mass Index).
The couple were crestfallen when they were told Jade is too heavy to have IVF treatment on the NHS.
And, there were more tears when they were told they could not adopt a child for the same reason.
Jade told the News: "We've had so many setbacks - so many barriers put in our way.
"If we could conceive naturally, there would be no problems. When you look at all the children just waiting to be adopted, waiting for a loving home, it seems so unfair."
With the support of their family and friends, the couple are determined to raise money to have IVF treatment privately.
They have launched a crowdfunding appeal.
Faye takes up the story. She says: "My sister was born to be a mum. For as long as I can remember, Jade has been a second mother to me.
"She has carried me through some of the darkest times of my life. She's always been there for me. Now, I want to do something for her."
Jade started her working career in primary education, due to her immense love of children.
Faye adds: "Jade has the instinct of a protector, mentor and nurturer and all she's ever wanted is to have children of her own. Andrew's sense of fun and playfulness is contagious. He's meant to be a dad.
"She's always been a 'big girl'.
"She's been on every diet under the sun, filled every spare room in her house with gym equipment and paid out hundreds of pounds on therapy to try and shed the pounds but nothing's worked.
"Now, all those years of hurt and pain over her weight have delivered yet another blow.
"She's been told she's too big to be a mum.
"This is a woman with bachelors and masters degrees in forensic science plus a PGCE and a diploma in UX.
"This is a woman who founded a company that supports and celebrates the milestones of recovering alcoholics – supporting those who are making the long journey back from rock bottom.
"This is a woman who has given society so much and who asks for so little.
"Andrew is a precision engineer whose world revolves around his young nephews.
"These are two educated, hard-working, self-sufficient and contributing members of society who, through no fault of their own, have been denied the right of parenthood, despite the fact there is no couple better qualified to love, teach and raise a child.
"It's not fair and it's not right."
Jade faces the burden of losing an impossible amount of weight to qualify for a role that nobody else has to prove themselves worthy of taking on.
She's taken on that challenge. In the last month, she's walked over 150km to raise money for charity. She's looked into weight loss surgery. She's counted calories. She's paid for counselling.
Faye adds: "Time is running out. She may not lose the weight before she becomes ineligible due to her age.
"For anyone who has ever wished an unloved child had a better place to go home to, please support these people who will love a child more than you'd think humanly possible.
"I just want to see my sister and brother-in-law happy.
"I want to see a little person at their feet to benefit from the insane amount of love they have to give.
"I want another little Jade or Andrew in the world, making it a better place."