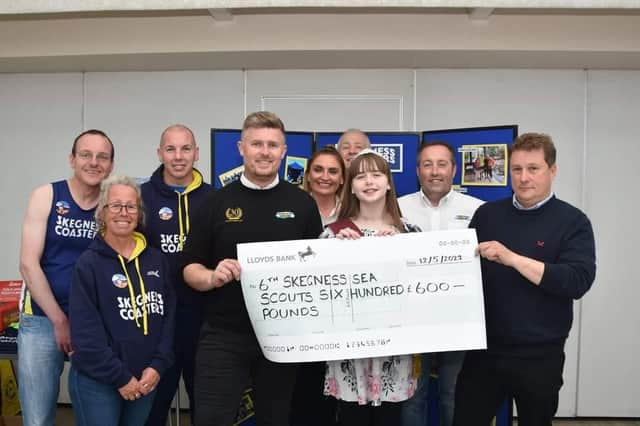 The 6th Skegness Sea Scouts receive their cheque from Skegness Coasters.
Skegness Coasters Running Club held an open evening recently to donate money to local charities and encourage new members.
This year's 10K was held at Butlin's and the Water Leisure Park and was the first to be held since 2019 because of the pandemic.
Local charities who benefited from £4,400 of the money raised included the Sixth Skegness Sea Scouts, who gave their time on the day to help.
The Sea Scouts received a cheque for £600 and one of their leaders John Baxter commented: "it was very welcome as it would go towards the purchase of a new trailer and the Scouts really enjoy helping out at a community event".
A cheque for £500 was also given to Natureland, who were very grateful and said it would help to pay the bills for the Seal Hospital in rescuing
and releasing seals back into the wild.
The two main charity beneficaries of this year's race were the County Linx Bus and the League of Friends of Skegness Hospital, both of whom received £1,600 each.
Both groups were affected during the pandemic with their fundraising efforts and how they operate.
Bess Smith of the Friends commented that their donation "would make a big difference" and it would be used to purchase chairs and Angel Packs, which are used by children to help them understand and come to terms with loss.
The County Linx Bus operators also struggled during the pandemic and at one point were not sure if they would get the bus back out to the many charity events they normally attend.
Doug Lunn expressed their gratitude for the donation saying it would help get the bus back out on the road.
Also present at the evening hosted by North Shore Hotel, which is now the main base for the Coasters, were representatives from Curly's – a
Lincolnshire based events company planning a new coastal Seaside Marathon starting and finishing in the town.
Jonathan Frary outlined their plans saying that they want to, "attract attention to the area with a unique event that stands out from the crowd".
The next Skegness 10K is provisionally scheduled to go ahead next February.
Anyone interested in becoming a member should visit skegnesscoasters.co.uk.