Three heritage sites in Gainsborough given a special Historic Heart Award
Three heritage sites in Gainsborough have been given a special Historic Heart Award, for their contribution towards the Townscape Heritage Initiative (THI).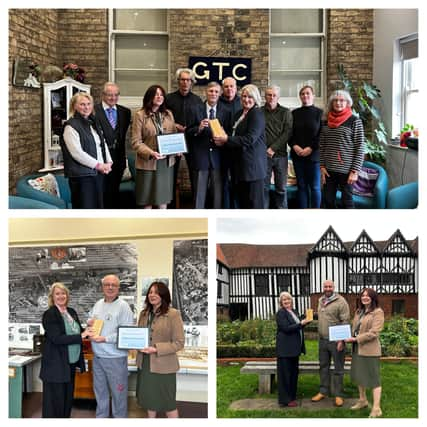 The Historic Heart Awards were developed by Gainsborough's Townscape Heritage Initiative to recognise organisations that have assisted West Lindsey District Council with promoting Gainsborough's rich heritage.
The council has worked closely with Gainsborough Old Hall, The Old Nick Theatre and Gainsborough Heritage Centre, who met regularly as part of the Historic Heart Forum. They supported events and raised awareness of all that Gainsborough has on offer for residents and visitors.
Mick Grundy, manager at Gainsborough Old Hall, said: "I'm delighted to receive this award. This demonstrates exactly what English Heritage does for the community and it draws everyone together for a common cause."
Des Kirkland, chairman of the Gainsborough Theatre Company, said: "It's been great working with West Lindsey District Council and what we have achieved together.
"We are a theatre, a museum, and one of the oldest buildings in the town. This building has an amazing history and people learn so much about the history of the building and the town when they visit us.
"We've had film companies from Australia and America here, that's how popular we are as a building. We are very much embedded into the community."
Andy Birkitt, chairman of Gainsborough Heritage Association said: "We are absolutely delighted to receive this award and we have absolutely loved working with Theresa Workman on this project from day one. It's great to see the Townscape Heritage Initiative in all its glory."
Theresa Workman, Townscape Heritage activities organiser for West Lindsey District Council, said: "I am so grateful for the support and assistance offered by our local heritage organisations.
"They deserve recognition and thanks for the benefits that they bring the town and their dedication to preserving and sharing its heritage."
Coun Lesley Rollings, deputy leader of the West Lindsey District Council, said: "I would like to congratulate all three attractions on receiving the Historic Heart Award."