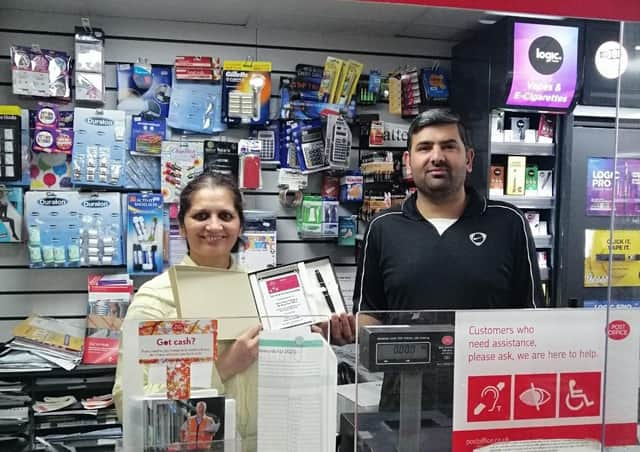 Postmasters Hira and Ram Odedara were presented with the 'Better for Customers' award at the Post Office's 'We're Stronger Together' regional awards for the East of England.
The awards recognise the efforts made by postmasters across the region to keep branches open during the Covid-19 pandemic and serving their local community.
The award was presented virtually by Post Office chief executive Nick Read.
Ram said: "I would like to say a big thank you to our local community who give us such big support and love.
"They have all accepted our family in such a short time as we took over this Post Office in February 2018."
Hira continued: "This business was our new adventure and we were very grateful to Irene, the former postmaster, who helped until I felt confident, and we are very thankful.
"Our family have been great, especially our niece Krupa, who gave me training before we took over my business, as well as Virambhai and Keshu.
"I was very surprised by the award – we just like to help people."
Post Office area manager Joanne Fryatt said Bardney had won the 'Better for Customers' category because Hira and Ram have continually gone above and beyond in helping customers.
She said: "Like many other branches, Hira and Ram have worked long hours, while also delivering retail items to shielding customers and continuing to build on mail and banking performance in branch.
"Their duty to Post Office customers has been exemplary, with customer satisfaction responses running at 100 per cent and one customer describing Bardney as 'the most friendly and efficient Post Office, best by far, we are lucky to have them in the village'.
"Hira and Ram have always been attentive to customers' needs and Bardney remains friendly and welcoming to customers, earning the branch a Rural Oscar nomination from the Countryside Alliance."
Nick Read praised all postmasters for their dedication.
He said: "I have heard many inspiring stories of postmasters going the extra mile.
"All retailers have been affected and Bardney Post Office was no exception. The next few weeks and months will be a critical period as we try and return to a sense of normality.
"Post Office branches have a vital role to play in supporting their customers, communities and local businesses."