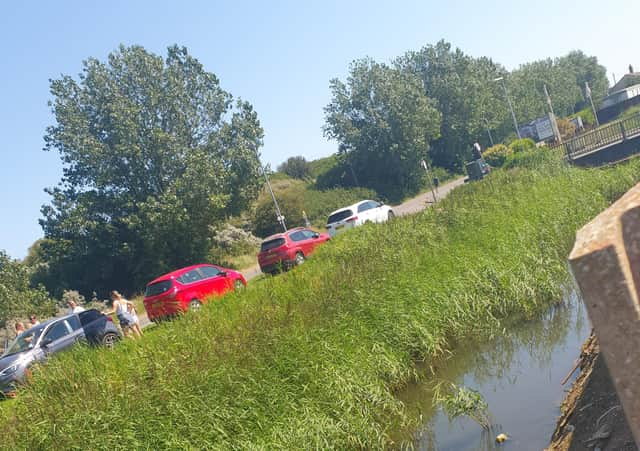 Kym Lack says the ongoing issue - exacerbated by lockdown restrictions being lifted and recent sunny weather - needs addressing.
Speaking to the Louth & Mablethorpe Leader, Kym said: "Someone needs to look into who deals with parking in Mablethorpe.
"It is crazy and now drivers are parking illegally.
"It is full so drivers are using the side streets, blocking dropped kerbs and clogging up residential streets."
Kym says the problem is particularly bad near the beach entrance and up the main road to the beach.
Problem areas are Quebec Road, Links Avenue, Poplar Avenue and Cambridge Road North.
Kym also believes that more people are now visiting Mablethorpe and adding to the parking problem.
She claims the town is so busy social distancing is impossible.
She added: "I believe weather and sudden lockdown release is attracting more people.
"Social distancing in the town is absolutely impossible when people refuse to do it too.
"The market on a Thursday is a nightmare and so are some of the shops."
Kym turned to the Leader for help after exhausting several routes of enquiry to find out who is responsible for parking and can therefore find a solution.
She said: "I've been struggling to find out who is in charge of doing anything about it. I'm just being passed from one to another.
"I've spoken with council drainage and water now, as well as highways and police.
"I just need to know who is meant to sort it and help."
The Leader contacted Lincolnshire County Council for a statement.
A spokesman explained: "Lincolnshire County Council can only enforce where there are parking restrictions on the road – so a single or double 
yellow line, or a parking bay, resident area, bus stop, school safety zone.
"If a car is parked wholly or partly on the kerb, we can still enforce if there is a restriction on the adjacent road."
The Leader also shared several images taken by Kym highlighting the issue.
The spokesman continued: "In this instance, yes, we would be able to enforce in the situation in these pictures, because there is a single yellow line on the road (obviously depending on what that restriction is)."
Councillor Richard Davies, executive member for Highways at Lincolnshire County Council, said: "If you're heading out to enjoy the Lincolnshire coast this summer, please park safely and responsibly.
"Whilst for visitors it may be a day out at the beach, for local residents trying to access their homes and communities, it can be a nightmare.
"Dangerous illegal parking puts road users at risk and can even prevent emergency vehicles accessing certain areas.
"So please think about where you are leaving your car."
Residents can report illegal on-street parking by visiting www.lincolnshire.gov.uk/nuisanceparking