Town councillors welcome news of pavement licenses... but concerns raised over timescale of approval
Councillors in Horncastle have welcomed pavement licenses and the positive impact they will have on shops/businesses – but some have expressed concerns over the timescale of approval and narrow pavements.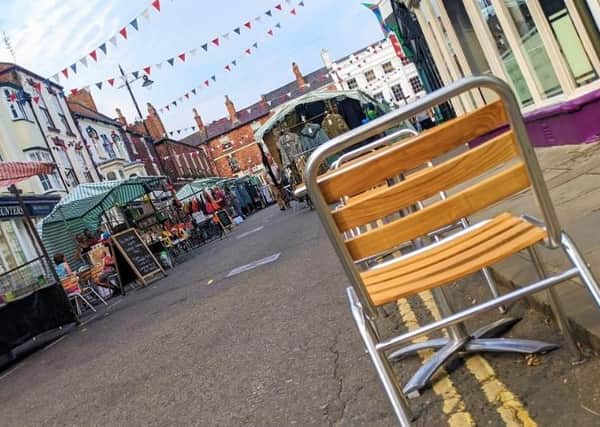 Speaking at this month's Horncastle Town Council meeting, County Councillor Bill Aron said: "We had an extraordinary full town council meeting last week for the pavement licenses.
"You can apply online, LCC and ELDC are trying to get it sorted in a 10-day turn around but the whole process will take more than 10 days.
"The 10-day period is from when the scrutiny panel have finished with it and handed it over to indicate whether the licence should or shouldn't be recommended.
"It isn't a question of individuals saying I want a stall outside my business/shop."
Coun Burbidge said: "Until the road is closed at the back of the Market Square, chairs and tables cannot be placed on that stretch of road.
"Something that concerns me is what Coun Aron said about shops being able to put a stall outside their property.
"I'm very concerned as that will limit pedestrians and wheelchair users passing by.
"The answer we have been given is that it should be achieved within 10-days but you have just said Coun Aron that this may take longer which extends the time that businesses won't be able to make something back.
"10-days brings us towards the end of August and time is going on.
Coun Aron said: "Shops on a narrow pavement wouldn't be issued with a licence ."
Coun Burbidge added: "One of the things I saw in one of the papers and on social media was that if you haven't got your permit within 10 days, go ahead and do it.
"That is the bit that concerns me that shops and businesses will go ahead and do it.
"Please if businesses/shops fancy having a go at this, get your application in now because it will be a minimum of 10 days potentially before you can get an answer.
Coun Barker added: "Standard pavements are 1.8-2m and I can't think of anywhere in Horncastle town centre that would allow any business or cafe to put tables and chairs outside.
"When we get the road closure to North of the Market Square it is a different discussion because that will be closed off.
"The information given by Lincolnshire County Council (LCC) is misleading – they should set the score far more definitively regarding how much width you need to have etc otherwise it is a waste of time filling out the application."
Following a full council meeting last week, East Lindsey District Council has agreed to delegate authority for the Government's new pavement licences to Lincolnshire County Council.
For a pavement licence, businesses will need to outline how many tables and chairs they want to put on the highway, and where; specify the days of the week and times the furniture will be on the highway; show they have public liability insurance for at least £5m; demonstrate that they have consulted neighbouring properties if they plan to extend beyond their frontage; obtain a licence from their district council if they wish to serve alcohol; not obstruct pedestrians or traffic, including parking and deliveries.
A spokesman from LCC said: "As with all pavement licences, the space available will be considered when determining the application, and any plans that would block the path for pedestrians or other road users wouldn't get approval.
"Once applications have been submitted and verified, they will be determined in 10 working days or less.
"When creating these new regulations, the Government stipulated that any applications that aren't determined within that timeframe – and no extension has been agreed – are to be considered approved.
"LCC, as the highway authority, has the power to remove any tables, seating or stall that it in the highway without a licence, or outside the terms of the licence.
"Of course, as always, we'd speak to the business in questions first; enforcement action is always a last resort."
To find out more or to apply, visit www.lincolnshire.gov.uk/licences-permits email [email protected]
• Once approved, the licence will be valid until the end of September 2021.