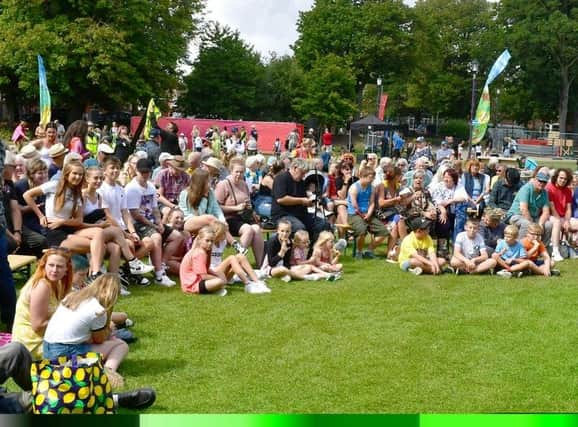 Community events are taking place across the country from Saturday May 6 to and Monday May 8, which is a Bank Holiday.
The event being organised by Skegness Town Council is to take place on the Saturday in Tower Gardens.
It follows criticism of the council when they planned nothing to celebrate Her late Majesty's Platinum Jubilee.
East Coast Steampunks have already taken to social media to announce their excitement at being invited to attend.
"We are on the official programme and are on the stage and the area in front of it for Steampunk Splendour," they said on Facebook.
Support has also come from Magna Vitae Trust for Leisure & Culture, hosts of the SO Festival in Tower Gardens last year, who are providing the stage for what is expected to be a full day of entertainment.
However, concerns were raised at the council meeting on Wednesday regarding regarding a sum of up to £10,000 which the Coronation Working Group asked councillors to underwrite.
In spite of this figure already being reduced to £5,000 due to the promise of sponsorship, some councillors worried in the present climate it was money they didn't have.
According to the report from the Working Group, events so far included in the programme include a charity dog show, dove release, children's playground, charity stalls, theatrical entertainment, face painting, circus entertainment and live and recorded music.
Town clerk Steve Larner pointed out: "If for some reason the event doesn't go ahead someone has to pay."
One of the concerns surrounded the cost of a big screen to show the Coronation ceremony.
Although supporting the event, Coun Mark Dannatt, who runs the Seaview Pub, pointed out every bar in the town would be showing the historic event on a big screen to attract business. He asked if it was necessary to include this in the day's agenda.
Coun Sid Dennis also warned caution. "I'm 100 per cent behind this but there is a lot of aspiration. What we need to see is stuff – and we need figures."
However, Coun Richard Cunnington who is on the Working Group, reassured councillors the event was already attracting a lot of support and the sponsorship needed would come.
Councillors agreed to proceed but come back to the next meeting with more detailed information.