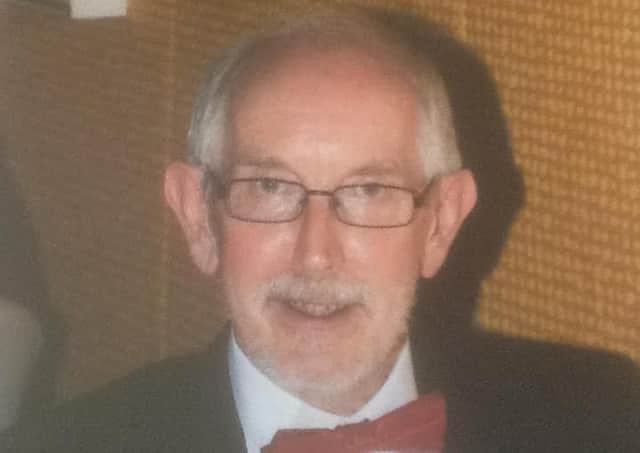 Paul Hobson was deputy head teacher at the Spilsby Road school from 1984 to 1990.
He was born in Sheffield in 1945, just weeks after the end of the Second World War. His father was a steel foundry worker, his mother a clerical assistant.
At school, he showed a flair for modern languages and would go on to study German and French at the University of Oxford.
After graduating with an master's degree in German and French languages and culture, he worked a summer as a tour guide in London, before deciding to become a language teacher.
The career that followed would bring him to Boston in 1984, where he lived in Allington Gardens with wife Susan – a fellow modern languages teacher who taught at the High School for a time as well – and their children Claire and Matthew.
Matthew said: "At work Davd was respected by students and colleagues alike, as he applied himself with great diligence in every aspect of his role.
"He was well-known at the school for giving very well-prepared and entertaining morning assemblies. His lessons were likewise well planned out and delivered with his unique personality and flair.
"His strong hold of discipline evidently allowed a certain amount of fun to be had through the learning process. Correct answers in the lower classes were rewarded by Gummi Bears.
"All the family have memories of Dad marking large piles of exercise books in his study at the house in Allington Gardens on most evenings, adding corrections and comments in the neatest of handwriting – adding a smiley face when the very best standard of work had been reached."
He added: "He had a strong desire for talented young people to do well in life, and took great pride in his students gaining places at the higher-ranked universities."
When Mr Hobson and his wife found themselves financially more secure, he took up the position of head of German at Spalding High School. He eventually moved on to be head of German and then a part-time German teacher at Queen Elizabeth's Grammar School in Horncastle, before taking early retirement at the age of 53. The couple would later downsize to two flats – one in Woodhall Spa, the other in the Spa town of Bad Bergzabern in Rhineland Pfalz, Germany.
Away from work, his hobbies and interests over the years included singing at Boston's Holy Trinity Church, golf (with friend and former Boston High School caretaker Eric King), gardening, walking, and travel. He was also an animal lover.
In his retirement, he continued to care for others and support the community through volunteer work. This included spending time with elderly psychiatric patients at Boston's Pilgrim Hospital and tutoring a child with special educational needs and others who had been excluded from mainstream education.
In 2015, he first noticed discrepancies in his speech, but it was not until early 2017 that he received a diagnosis of Lewy body dementia with Parkinson's.
He spent his last year being cared for in Landermeads Care Home, in Beeston, where he passed peacefully away on Easter Monday.
There were lighter moments in these final years, however, the family noted, not least the arrival of grandchildren.
"Paul loved visits from his family and always asked after them," Matthew added.