Tributes paid to Louth Town's 'King Kenny'
​"A family man", "infectious" and "much loved" are just some of the kind words being said about one of the footballing community's much loved figures upon his sudden passing.
Louth Town FC's Development Team Manager Ken Westerby sadly died earlier this month, and his commitment and rejuvenation of grassroots football has been widely praised by the club.
His family said that football was Ken's biggest passion, and he played for Greyhound FC in 1980/81 season, then becoming Secretary/Manager from 1984/85 season until the 1994/95 season when the team folded, winning the Division 2 League along the way.
Ken established his beloved AFC Louth for the 1995/96 season and remained manager and secretary until 2018/19, their final season, and won Secretary of the Year.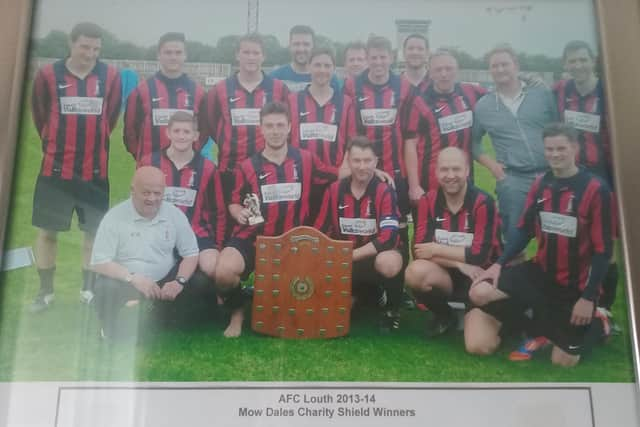 He then joined Louth Town Reserves as manager for 2019/20 and then Louth Old Boys for the 2020/21 and 21/22 seasons, before joining Louth Town in 2020, where he took on the role of development team manager, where he was known around the club as "King Kenny" due to his effervescent personality.
He has won the Fair Player Trophy, Town Trophy in 2008, Charity Shields in 2013/14, and the prestigious Cusworth Cup in 2014/15 all with AFC Louth, and Ken himself has won Secretary of the Year twice, in the 1993/94 and 2008/09 seasons.
His son Mark has now paid tribute to his dad, who he said was involved with football all of his life, and lived for the weekends when he was either playing, or later managing, and watching his beloved Grimsby Town FC when possible.
"His desire and hunger to do well after more than 30 years in the game was amazing," he said, "When Grimsby were promoted back to League Two at the West Ham stadium [Town won the 2022 National League play-off final, beating Solihull Moors 2–1 after extra time], it was up there with one of the best days of his life as all the family were there."
Ken was very much a family man, and Mark said he adored his grandchildren:
"He loved nothing more than when all the family were round at the family home, and it was a full house."
It wasn't just on the pitch that Ken strived for good things, as Mark said even after retiring from his career as a joiner, he would still be working in his workshop creating bird boxes, and even helped to convert a caravan into a changing room for Louth Town.
Poignantly, Mark said that on the day he died, his dad had seen his Louth Town beat Grimoldby and had gone home for tea, watched Match of the Day, and passed away during the night: "If he could have picked the perfect way to go, that would be his favourite way after a successful day of football," he said.
Louth Town FC manager, Carl Martin, has now paid tribute to the much loved King Kenny, who said that Ken's passion and love for the game was second to none:
"Ken did more for grassroots football in the past three years than some could do in 30," he said, "He was infectious and had such passion and enthusiasm for the game, he was so respected and he was such a character."
Carl said that King Kenny would be very much missed by everyone at the club:
"We've lost a good friend, a great character, and a family man," he said, "His death was a real shock and our thoughts are with his family."
Calling Kenny a "real pillar of the community", Carl added that what King Kenny has done for grassroots football all across Lincolnshire is a great credit to him.
"He'll take great comfort that in his last ever Saturday, he got three points," he added, "It's a real fitting tribute to him as football was his passion."
Ken's funeral will be held on Thursday (November 23) at 12noon at St. Michael's Church, Louth, followed by a celebration of Ken's life at The Brown Cow, Louth, and then a private family cremation.