Un-bee-lievable gift from Hedera Artistry to Kids' Patch Horncastle
​A family garden initiative has a buzz around it now thanks to a gift from a Minting business.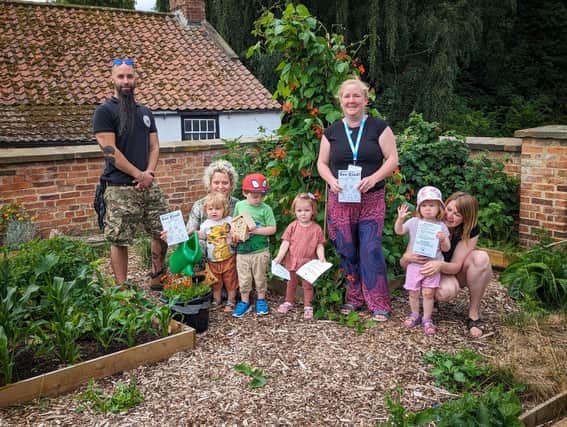 Kids' Patch Horncastle is free, friendly gardening club that helps children and their families to understand where food comes from, learning how to grow fresh fruit and vegetables and prepare nutritious family meals.
The initiative run is by BRIC (Building Resilience in Communities) and their Community Gardening Project, and meets every Thursday from 10am to 12noon at Horncastle Community Centre.
As part of National Bees' Needs Week, Kids' Patch Horncastle had a special visit from Carl and Kate Davies of Hedera Artistry, who create gifts and furniture using 100 percent reclaimed wood, and accepted their donation of a bee cottage and seed paper colouring cards.
Spokesman for Kids Patch Horncastle, Kate Giffen, said: "I asked them if they would consider donating a bee cottage to Kids' Patch and they happily agreed.
"We loved hearing all about their ecofriendly brand ethos and how we can encourage more bees in our gardens.
"The bee cottage is now in situ at the Community Centre. We couldn't' 'bee' more thrilled."
The Kids Patch Horncastle is open to families and will run throughout the summer holidays, supporting positive mental health, getting children and their families outdoors, enjoying time together and connecting them with their local community.
BRIC delivers a range of initiatives that build the resilience, health, and happiness of children and their families across Lincolnshire, and their Outdoors Project include community gardens such as Kids Patch, which are based around the county and range in size and activity, delivering the Kids' Patch project as well as partnership initiatives.
BRIC Outdoors is also aiming to recruit more volunteers to help run their sessions. Anyone interest can find out more information can be found at www.bric.org.uk