The 'Provide, Protect, Preserve' recovery appeal has a target of £1.5million to stabilise the Cathedral's finances.
Covid-19 has taken a significant toll not only on the pattern of worship, but also on visitor numbers and events which provide a significant proportion of the income to support the Cathedral's ongoing operation.
It is unlikely there will be a return to pre-COVID visitor levels in the near future; as a result, the Cathedral has had to take difficult steps to ensure the survival of its purpose and financial viability.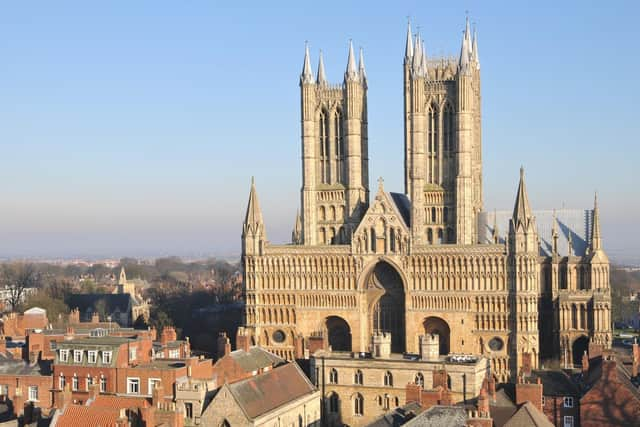 The Very Rev Christine Wilson, Dean of Lincoln said, "This recovery appeal will ensure that we can provide a sacred space for worship, welcome, hospitality and spiritual nurture, that meets the needs of the community as we all continue to live with the reality of COVID-19.
"It will also help us to protect Lincoln Cathedral's tradition of choral and musical excellence at a time when the arts are under threat more than ever.
"In addition, it will allow us to preserve the precious built heritage we have in the Cathedral, and the craftspeople, and professionals whose passion and skill we rely on to sustain the building.
"These aims are integral to the history and story and purpose of this building, meaning we can continue to work on conservation of the fabric, we don't lose our choir, that we can continue to be a beacon to the community and the doors can be kept open to continue to joyfully proclaim the love of God."
Between April 1 and July 31 2020, the Cathedral lost £768,972 income from visitor admissions, events, donations and commercial activity in the shop and refectory.
With ongoing uncertainty and footfall still well below the expected levels, this number continues to grow. Additionally, income from endowments and restricted funds that support the running of the Cathedral have shrunk by about one third as the investments have been hit.
At the same time, many of the fixed costs have remained consistent, and although the Cathedral has made use of Government schemes wherever it is able to qualify, this has not been enough to ensure the viability of the organisation.
As the appeal was launched, Matthew Tarling, grants and data Officer at the Cathedral said: "As a charity, unrestricted funds are incredibly important, as they support every aspect of the Cathedral's activities – including conservation and music.
"Our heritage, traditions and people are under threat today more than ever before.
"This is why we need everyone's help to try and raise £1.5 million in order to minimise the negative impact of the COVID-19 pandemic."
To find out more or donate to the appeal visit www.lincolncathedral.com/recovery-appeal