Variety and circus acts line up for Big Night Out variety charity show in Skegness
One of the biggest charity nights of the year in Skegness is preparing to take the spotlight in centre ring at the resort's Wonder Circus.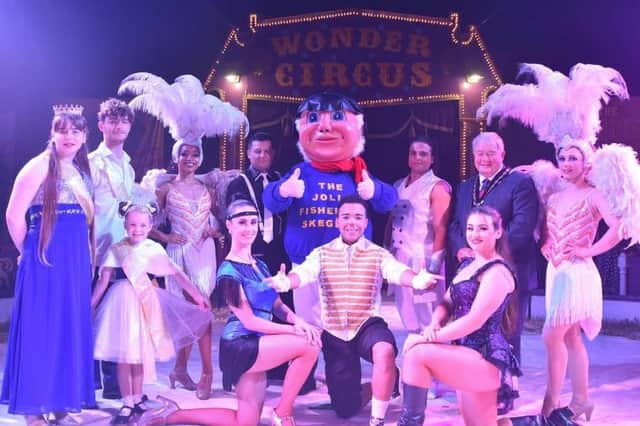 The Big Night Out takes place on Thursday, August 17 – featuring an exciting line-up of variety acts and circus.
A regular date on the annual calendar in the resort, the event is organised by Martin Brown of Visit the Seaside and Natterjack Creative and Carolyn Roberts, owner of The Wonder Circus.
Special guestson the night will include the Mayor and Mayoress of Skegness, Coun and Mrs Pete Barry; Skegness town councillors, the Carnival Royalty and the Jolly Fisherman.
Gary Starr, director of the Neverlands Theatre, will be back in the Big Top spotlight as performer and ringmaster, with professional variety and children's entertainer Dee'Dee Lee managing the variety acts as well as performing.
In the second half of the show, a charity auction will be held with prizes donated by local businesses. All proceeds from the evening are in aid of the cancer charity Coppafeel.
Other performers include:
Three amazing acts from The Wonder Circus.
JJ - an international award-winning family and children's ventriloquist and magician.
Kriss Alucard - a professional singer /musician.
Award-winning Luke Hollingsworth of Top Limitz Dance Academy.
Professional singer and variety performer Doug Kennedy
Top Limitz Dance Academy
Savoy Variety Performers from The Savoy Hotel with 'The Little Mermaid'.
Lincolnshire Vocal Academy Choir
Skegness variety performer Paul Wilson.
Special guest and auctioneer Bob Clifford
Venue -Big Top Wonder Circus. Burgh Road. Skegness
Date: Thursday 17th August. 2023.
Time: Open at 6pm, show starts at 7pm.
Tickets at £7 each are available from the Wonder Circus Box Office at www.visittheseaside.com.