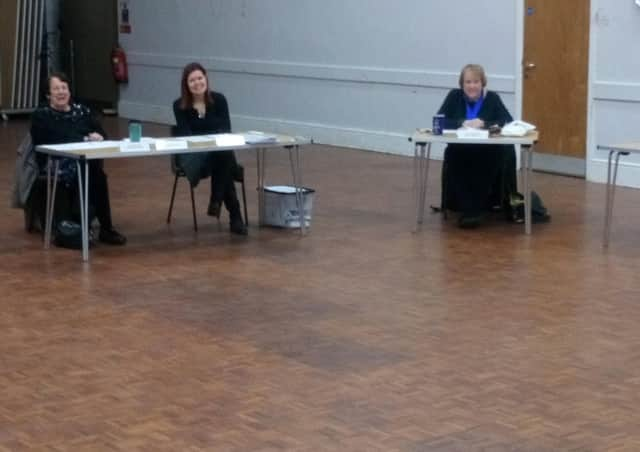 Town councillors met in Horncastle last Tuesday evening at what proved to be one of the last public gatherings of any size.
The meeting was switched from a smaller committee room to the main hall at Stanhope Hall.
Councillors sat at individual tables, at least six feet apart, while members of the public were restricted to the back of the hall..
Two officers from Lincolnshire County Council's highways department did, as promised, attend.
Mayor Fiona Martin said it was important the meeting went ahead to allow councillors to discuss several important issues - and to draw up plans for the coming weeks with no full council or committee meetings taking place.
The public forum was dominated by speeches from volunteers behind a lifeline community service for vulnerable residents .
The project initially involved the town's Outreach Kitchen and local Foodbank, although it is hoped other organisations will come on board.
Councillors agreed to 'set aside' £1,000 a month to support the venture.
Isobel Forrester, from the Foodbank, said volunteers were in the process of finalising a list of people who would need the service.
She promised to keep the council informed of progress -and any further appeals for help and suitable produce for food parcels.
Council business featured a talk from the highways officials about a new contract system for road repairs .
After a brief question and answer session, councillors then moved on to discuss the potential impact of the pandemic.
They agreed to cancel the planned VE Day celebrations in May - even though months' of hard work has gone into what would have been a three day event.
Coun Martin said it was impossible for the celebrations to go ahead, especially with Government guidelines being 'tightened' on a daily basis.
She added no-one knew how long the virus would last, while Coun Dominic Hinkins said guidelines meant it wasn't even possible for the organising committee to meet.
Coun Brian Burbidge added: "A lot of the events have been planned and advertised for several weeks now but let's face it, who is going to buy tickets at this time?
"It is better to make a decision now rather than see what happens."
Councillors agreed to consider holding the events later in the year.
The annual civic service was also cancelled.
Other items discussed included provision for the council to make decisions without holding meetings, CCTV coverage and the on-going transfer of assets from East Lindsey District Council to the town council.
Meanwhile, other town and parish councils are in exactly the same position as Horncastle and will not be meeting until further notice.
The list of cancelled events in Horncastle, Woodhall Spa and Coningsby is growing on an almost hourly basis.
Clubs and social gatherings are virtually all cancelled, sparking concerns that some people could become even more isolated and lonely.