Victoria Atkins MP: 'We will make our streets safer for women'
Louth and Horncastle MP Victoria Atkins has thrown her support behind calls to make Britain's streets safer for women following the tragic death of Sarah Everard.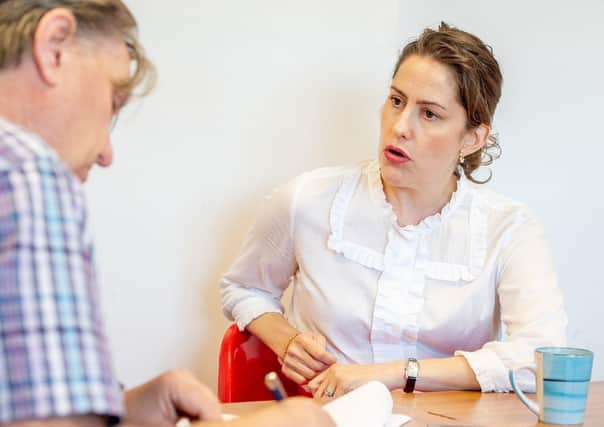 Writing on her Facebook page last weekend, Ms Atkins sent her thoughts and condolences to the family of Ms Everard.
Ms Atkins – who is the Minster for Safeguarding – said last week's events brought back memories of the 'sharp prickles of fear' she had felt during walks home.
Ms Atkins said: "My thoughts and condolences are with the family and friends of Sarah Everard at the unimaginable loss they are experiencing at this time.
'There has understandably been anguish shown in response to the news.
"Many women have bravely shared their experiences and concerns about harassment and violence.
"I would like to thank everyone who has shared their stories as they are something I, and every woman, can understand and relate to.
"It has made me think of my own experiences and the sharp prickle of fear felt all too often on walks home.
"We should feel safe to walk our streets without fear and I will do everything I can to help secure this."
Ms Atkins' high profile ministerial role saw her interviewed by various national media platforms after the controversial police actions at a vigil for Miss Everard on Clapham Common on Saturday evening.
Speaking on Sky TV, Ms Atkins said she was upset by some of the images as officers broke up the gathering and forced some women onto the floor as they made arrests.
Ms Atkins said she backed the Home Secretary's call for the Metropolitan Police to submit a full report.
However, she stopped short of directly criticising police, or supporting calls for Met chief Cressida Dick to quit.
Ms Atkins said: "The scenes that we saw were very upsetting and that is why the Home Secretary has asked the Metropolitan Police Commissioner for a report on what happened."
Referring to one image in particular, (of officers grappling with a woman on he floor) Ms Atkins added: "That photograph is something the police will have to explain."
Ms Atkins went on to say officers were in a difficult situation and often had to make decisions 'in the moment.'
She added: "Policing large events is difficult at the best of times and we're in the middle of a pandemic with all of the rules and regulations.
"Police are operationally independent and rightly so. I don't think anyone would want a scenario whereby politicians are directing to the police."
Ms Atkins went on to defend claims the Government had not done enough to combat violence against women.
She outlined how she was leading a new bill through Parliament to combat domestic violence at home and said preventing violence against women in the street was 'the next step.'
She added: "There is a huge range of different crimes that disproportionately affect women and young girls."
Ms Atkins stressed the top echelons of Government – including Prime Minister Boris Johnson – were committed to tackling violence against women.
She added: "We are listening and we will act."