Paul 'Gazza' Gascoigne is taking to the stage at the Gliderdrome this summer with a show discussing his most memorable career moments.
The footballing legend will recount tales from his life on and off the pitch, with some ticket-holders having the opportunity for a meet-and-greet afterwards.
Gazza, who famously turned on the waterworks during England's World Cup semi-final with Germany in 1990, played his first match with the Pilgrims back in July 2004.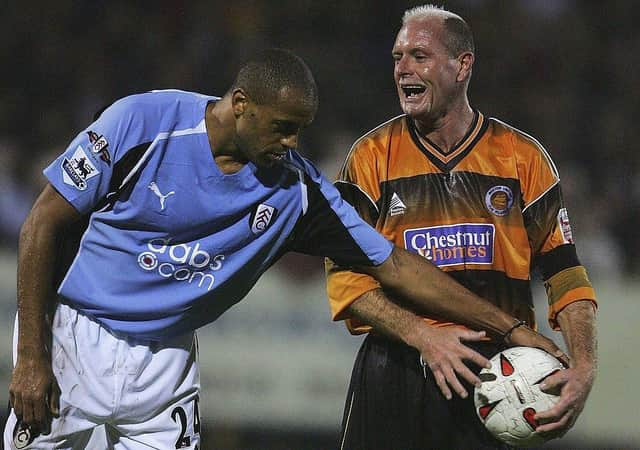 It was a match for the player that, unsurprisingly, involved tears. Only these were not his own.
Our sports report from 2004 describes how the football icon accidentally landed a ball in the face of a young female mascot for his new team. A tense moment for the Geordie – as the girl was also reportedly the daughter of his new boss at United.
Gazza's time as a player coach with the Pilgrims only lasted a couple of months – with his final match in the yellow and black shirt being against Fulham in September, 2004.
The stage show is being brought to the Gliderdrome by Nor-Lait Sporting Events, based in Grimsby.
Simon North, from the events company said: "We will be bringing him back to Boston for this one-off thing.
"Paul Gascoigne is one of the greatest talents in football, and will be recounting stories on the night from his career in national and international football, and the players he's worked with, to the many TV shows he's been involved in over the years.
"He will also be talking about his time playing for Boston United. There was a little joke he made at the time, that he initially thought it was Boston, America, not Boston, England, that he would be playing for."
Gazza represented the England team from 1988 to 1998, a period in which he was capped 57 times and scored ten goals.
Tickets available for the show are graded from bronze, through to platinum, with some tickets providing the opportunity for a meet and greet with Gazza.
The show takes place on Sunday, June 25, and will be compered by Jed Stone.