VIDEO: Help needed to create museum for Bill's 49 historic pianos
When one thinks of the 'piano man' you'd be forgiven for immediately thinking of the great Billy Joel.
Watch more of our videos on Shots! 
and live on Freeview channel 276
Visit Shots! now
But even Mr Joel's piano collection may struggle to match that of Bill Kibby-Johnson, a musician of more than 60 years.
Bill and his wife Beth have lived in Burwell for six years and he has been trying to find music work in order to fund his dream of creating a proper museum to showcase his collection of 49 vintage pianos - ranging in age from the 1790s up to the present day – and two harmoniums.
Bill began his piano training back in the 1960s and when he left college he realised that he had no real knowledge of the history of the piano and he started to do his own research.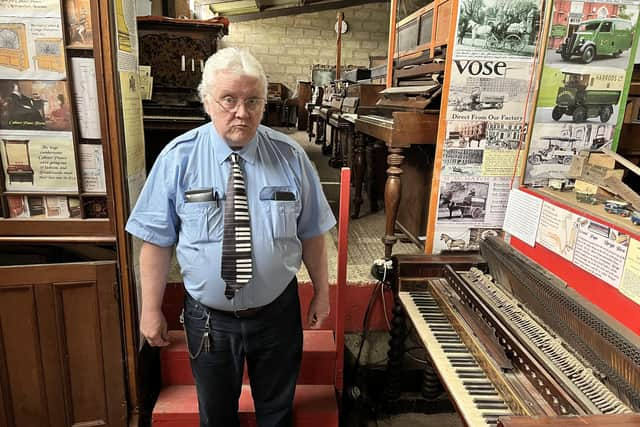 Before long, Bill became a font of information about the piano and its history, and learned enough knowledge to offer a piano repairs and tuning service. Now hundreds or thousands of people around the world turn to his website for help with old pianos, unusual pianos, or ancestors of piano makers.
Over the years, Bill gradually started to take on and restore pianos that were either set for the skip or too badly damaged for their owners to afford to mend.
And now he is looking to create a museum with a proper timeline showing the history of each piano.
But here is where the problem lies – he says he and his wife Beth have been given notice by their landlord to move out, which they must do by August 25. So not only are they looking for a new home for themselves, but also for Bill's historic pianos.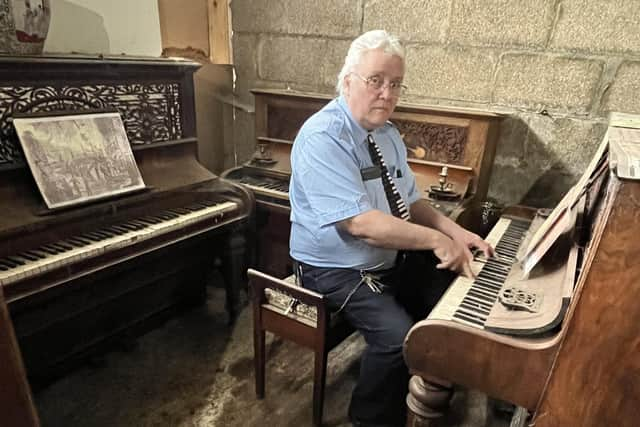 "We thought we were here for life, and my main task has been planning a Piano History Centre when I could raise the money," Bill explained.
At present, the pianos are being stored in a damp, leaking outbuilding on land next to their home, which is causing the pianos to gather damp dust.
Bill cannot afford to either rent or purchase a building of the size needed to house them all as paid music gigs are very hard to come by these days.
"I don't know anyone anywhere who can do all the things I can do in music, the different styles and periods of music, and skills on different instruments," Bill said, "But venues in Lincolnshire don't want to pay professional musicians, they have amateurs who play for nothing, and I am struggling to raise the funding for a proper home for the world's largest collection of piano history."
Bill has spent many years cleaning, tuning, and restoring his many pianos.
There is a story behind many of Bill's pianos, one of which is a 1830 piano invented by Frenchman Henri Pape who reinvented a small piano in a change to the design of pianos of the day, which stood at over 7ft or 8ft tall.
It was at a museum in France when it became water damaged and Bill acquired it when the museum couldn't/wouldn't fix it.
In order to store all of his pianos and create the museum he dreams of, Bill estimates he will need one that is at least 500sq ft in size.
If anyone would be able to help Bill with finding a new home for his museum and storage for his piano, you can contact him by calling 07969 778428 or visit his website at https://www.pianohistory.info/