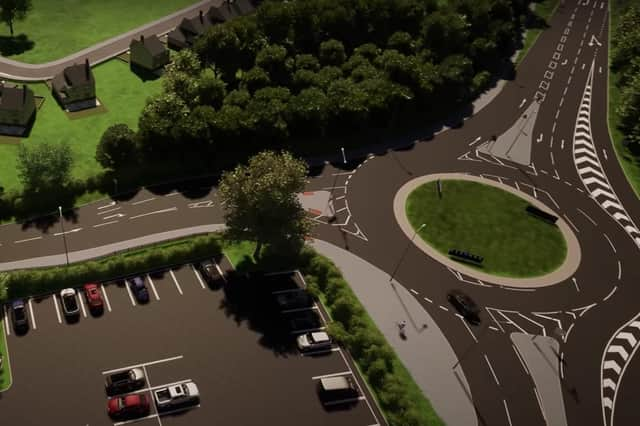 Lincolnshire County Council has released a video showing an artist's impression fly-through of how the improved roundabout and 'active travel route' will look.
Coun Richard Davies, executive member for highways, said: "I'm really happy to announce that the first two projects of our multi-year programme of 'Levelling Up' improvements near Boston and Spalding are now officially underway.
"Now that our scheme contractor, Winvic, has broken ground, the focus will be on starting widening on the west side and northside of Marsh Lane roundabout, including site clearance and removing old kerbs.
"When complete later this year, our improvements to the roundabout will help reduce congestion on the A16, improve safety and future-proof the roundabout for future A16 upgrades down the line.
"And our works to improve active travel links will see the creation of a three-quarter mile active travel route in Boston that will make it easier for people to walk and cycle in and around the area near Wyberton Low Road."
Below is an overview of initial traffic management for the two projects, as of tMonday, May 15.
• 24/7 lane closures on the A16 near Marsh Lane roundabout will be in place for up to ten weeks. Please note that the road will remain open during this time, however the number of lanes will be reduced from two to one
• The footways adjacent to the A16 will also be affected during this time, with pedestrian diversions in place
• Later in the project, temporary traffic signals and a series of night-time road closures will be used as needed on the A16, Marsh Lane and Wyberton Low Road. A 24/7 closure of London Road (southbound) will also be required towards the end of the project.
• More details will be shared as the scheme progresses via advanced roadside signage.
Coun Davies added: "As with any major road improvement project, some disruption on local roads is inevitable when work is underway. However, we'll be doing everything we can to keep traffic moving and maintain access to all businesses."
The Marsh Lane roundabout improvements and Boston Active Travel are expected to cost a total of £5.7 million.
Once construction starts, the main point-of-contact for residents and businesses for any traffic management updates, access issues or queries will be project's dedicated public liaison officer, Sophie Ward-Owen. She will be available by email at [email protected]
Both projects will be funded by a portion of the £20m in 'Levelling Up' funding awarded to the county council in October 2021. The remaining funding will be used across four projects, including improvements to Spalding's A16/A151 Springfield Roundabout and A16/B1180 Greencell Roundabout.