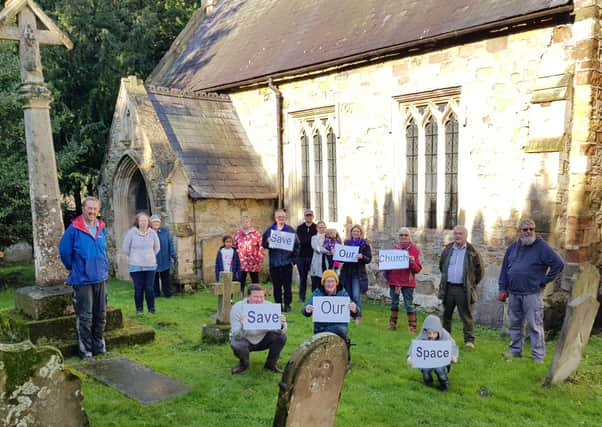 St Mary's Church in West Torrington was declared redundant in 2011.
Since then, villagers have continued to voluntarily care for the churchyard, organising regular tidy ups.
However, residents were left devastated when the church was recently put up for sale on the open market.
The West Torrington Community and Heritage Action group was formed and they are now trying to raise funds to buy the building.
Group member Demelza Hoban said: "We have no other community space in the village.
"We canvassed people in the village and everyone is behind us - even displaying 'Save Our Church' banners in their gardens.
"People have been generous with donations, giving what they can.
"We have raised around £10,000 so far, but this is way off the guide price of £50,000 - £75,000.
"So we have launched a crowd-funding page to help us achieve our goal and secure a community space for everyone to use."
The building is for sale by informal tender, with a closing date of November 5.
In June this year, planning permission was granted to convert and extend the building to create a two-bedroom home.
Concern was, therefore, raised over the graves in the churchyard and also the village war memorial, which is sited within the porch of the building.
Demelza said: "The most recent grave is 2004.
"Naturally relatives were very upset the churchyard could/ is being sold off with the building.
"Thankfully, this area has now been taken out of the sale, but there are concerns for other areas which are still included.
"My own mother-in-law has family buried in the churchyard."
Demelza continued: "We have asked the Diocese about the war memorial and they have told us it can be moved to another church.
"But this is the village memorial and should stay in the village."
Demelza added the group wants to work with the Diocese to bring the whole situation to a satisfactory resolution.
Meanwhile, the group has gone ahead with launching its crowdfunder to support the community purchase plan.
Anyone who wishes to support them can make a donation at www.crowdfunder.co.uk/west-torrington
The group also has a website - www.WestTorrington.org.uk - where more information about the church and the village as a whole can be found.