The town's branch of the Royal British Legion held a low-key wreath laying service at the war memorial in the Market Place including standard bearer Brian Harvey and branch chairman Clive Candlin when they observed a two minute silence at 11am.
Words were said by Major Candlin, as well as prayers by Rev Al Jenkins.
A bugler played The Last Post and a wreath was laid by chairman of North Kesteven District Council Coun Susan Waring to honour those who served and died in the war against Japan in Asia and the Pacific for months after the end of the war in Europe.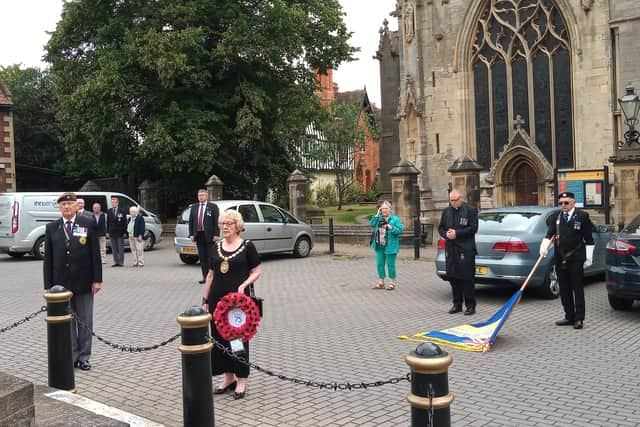 It was followed by a Cry For Peace Around The World by Sleaford town crier John Griffiths, timed to be carried out simultaneously at 11.10am around the world by other criers.
His words reminded everyone: "So August 15 became a day of celebration as Japan agreed to the Potsdam declaration and on September 2, at last it was done...
"...This kingdom never gave up, and it must never forget."
Major Candlin explained they had not promoted the event in order to adhere to current Covid-19 protocols about avoiding public gatherings, under social distancing guidelines.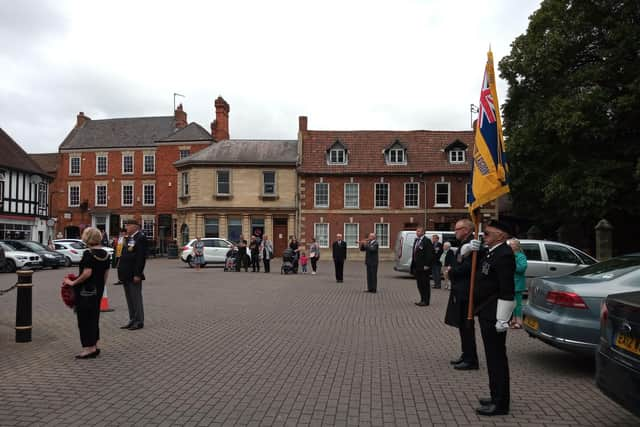 He said: "We did not want, as we do on Remembrance Sunday, a massive crowd as that would be almost unmanageable, so we have kept it very low key. But it was important, despite that, there was some remembrance of VJ Day and the 'Forgotten Army' this year. We spoke to the councils and so the chairman of NKDC laid the wreath on behalf of the town and I said a few words."
Major Candlin accepted that those forces who carried on fighting in the jungles of Burma, South-East Asia and the Pacific islands were often overlooked in comparison to the Victory in Europe commemorations, but he understood the occasion had to be lower key due to the pandemic.