Residents have been horrified by the scenes published after a series of devastating earthquakes hit southern Turkey and north-west Syria, killing over 24,000 people.
The first deadly earthquake struck while people were inside their homes, asleep in their beds, with no warning signs. Thousands of buildings, including hospitals and schools, have collapsed and infrastructure has been badly damaged. Local responders continue to desperately search through the rubble for survivors.
It is believed 17 million people in the affected area, many of them in urgent need of shelter, food and medical aid.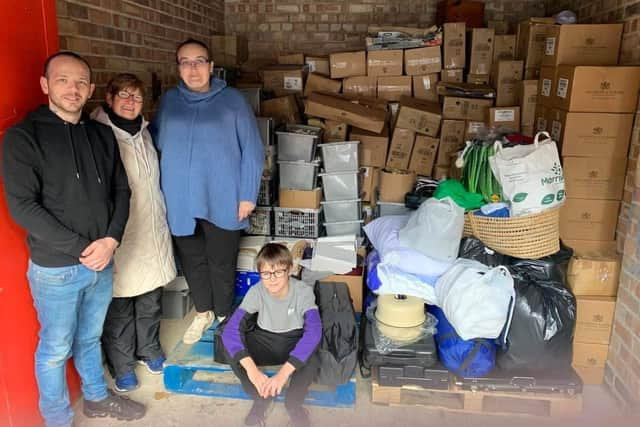 People have been left without shelter in freezing winter conditions and desperately need blankets, emergency shelter, food and clean water.
Organiser Kelly Andrews said: "We helped thousands of people over years in various ways, such as providing food parcels, but when we heard about the earthquake my partner, James Haxby, wanted to us help.
"We have friends in Turkey who are luckily OK but having spoken to the Turkish Embassy there is so much help needed.
"Initially babies left without parents ungently needed such things as formula but it has expanded since then and we have been provided with a list of items.".
Former Skegness hotelier Russ Sparks has offered assistence by allowing donations to be stored at his garages at the rear of the Grosvenor House Hotel.
He is also arranging a lorry to take the items to Manchester, where a transport company, Seda Foods Ltd, will deliver them to Turkey.
Mr Sparks told Lincolnshire World: "I couldn't sir back and watch another disaster happen and not help."
"Any donations will be gratefully accepted.
. Items being requested include:-
Adult and children's shoes Tents Powerbanks Canned halal food Kitchenware Duvet cover sets Propeller for summer or Mobile cooler Sheets Tent type cooking utensils Summer clothes Sponge mattress Thermos Wheelchairs/Walkers and any disabled assistance Blankets Towels
It is hoped to ship donations by February 20. Donations can be dropped off at the garages daily between 10am and 2pm, and from 4pm to 6pm on Wednesday. The garages are in the service road at the rear of the Grosvenor House Hotel, Scarborough Ave, Skegness PE25 2TE.