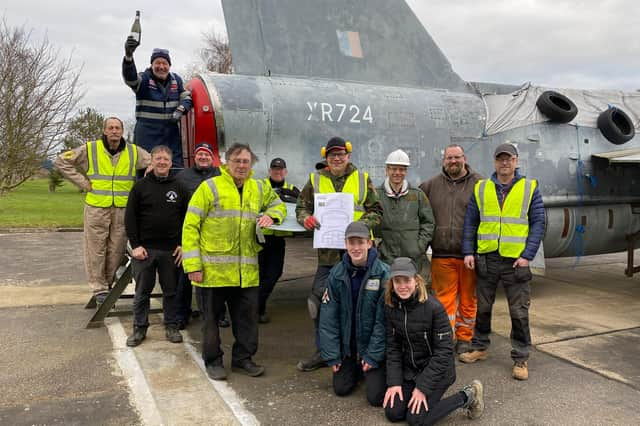 Volunteers in the frame for Lightning preservation
A group of enthusiastic volunteers, whose aim is to preserve an important part of the county's aviation heritage, is celebrating after plans were approved for a temporary hangar.
Published 11th Feb 2023, 15:15 BST
As soon as the green light was given by West Lindsey planners for their application at the RAF Binbrook Heritage Centre, The Lightning Association, based at the former RAF camp, got straight on to beginning work on the site.
The hangar will help preserve the group's precious Lightning F6 XR724 aircraft, which has stood out in the elements since it arrived at the site 30 years ago.
Steve Baker is a volunteer engineer with the association and has been involved with the project for the last seven years.
He described the planning approval was a major step forward and was part of the group of volunteers who were on site at the weekend to get the build started.
He said: "As soon as we got the go-ahead, it was all hands to the pump to get it done.
"We got all the frame work together and the next job will be to put the framework in place and finally put on the canvas top. There is about another two days' work.
"We need to get some equipment in, but we are hoping to get it all completed this month."
The cost of the structure has been raised through donations and by association members' own pockets.
Steve added: "We are lucky that our group has a wide range of skills – from ex RAF engineers to people who are keen to learn.
"They are all enthusiastic and are willing to give their free time. There are those who are hands on and those who work behind the scenes planning and problem solving.
"We all have one aim and that is to honour those who went before, who served up on the hill at Binbrook and took care of us."
Future plans include squadron reunions and open days, but first the work needs to be completed and money raised for ongoing costs, including equipment and fuel to be able to fire up the engine and keep it ticking over.
To find out more, visit www.lightning.org.uk or the XR724 Lightning F.6 Facebook page.