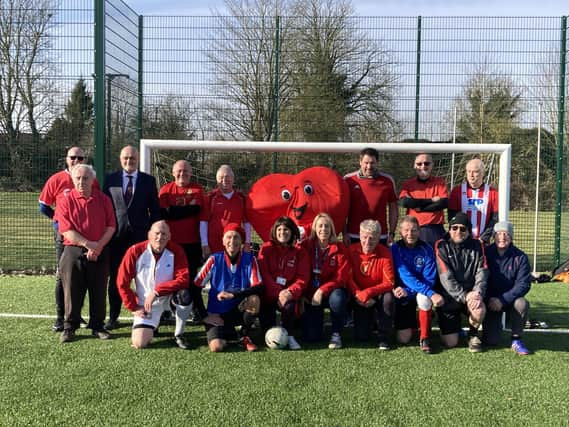 ​Walking footballers take heart in sport
Walking footballers at Market Rasen Leisure Centre have shown they are all heart when it comes to fundraising.
Published 18th Feb 2023, 18:14 GMT
Organised by the Wolds Wanderers, who have relocated to the centre from Caistor for the winter, an event to support the British Heart Foundation's Go Red for Heart Month has brought in almost £1,000 for the charity.
Bob Tubman headed up the event, which included playing a game all dressed in red and auctioning off football memorabilia and other items to raise funds for lifesaving research, and he was delighted with how it all went.
He said: "It was a great day and we had loads of support.
"Thank you to the businesses in Market Rasen and Caistor – and as far away as Cleethorpes - who donated items for the auction, as well as the individuals who provided some lots – and then came along to bid too, as well as thanks to the leisure centre staff for allowing the event to take place."
The club also welcomed the generous donation of a portable defibrillator, sponsored by local business Tony Fenton & Sons.
The Wolds Wanderers Club was set up in 2017 to promote physical and mental well-being, and it seems to be working its magic on a number of people.
Bob said: "We have a number of players who have turned to walking football after health issues have meant they can no longer play the traditional game and the benefits have been amazing.
"We have someone who has been able to come off their diabetic medication thanks to the activity; many have lost weight, which is good for their heart, and even someone who has had a heart transplant."
Bob added: "We want to encourage people to increase their exercise – even if you don't feel confident or competent, just give it a try."
Melanie Meik, fundraising manager for the BHF, met some of those with stories to share about their own connections to heart and circulatory diseases
She said: "These truly precious experiences are brilliant examples of why it's so important to raise awareness about heart disease and also to raise funds for lifesaving research.
"We're delighted to work with incredible partners like Wolds Wanderers, to help the BHF save more lives today, tomorrow and for many years to come."