​​Walking Women looking to trek through the Lincolnshire Wolds
After the success of their business has seen holidays planned for ladies all over the world, these two 'walking women' are now setting their sights on their home town.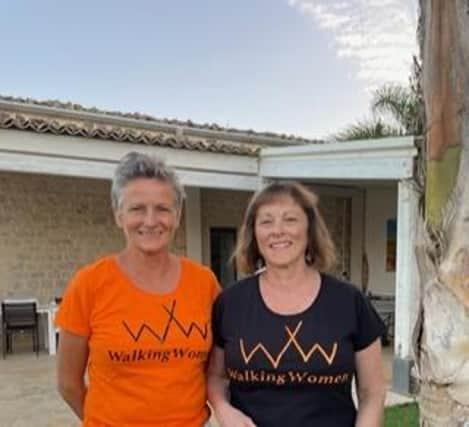 Sisters Sara Pease-Watkin​ and Ginny Lunn, originally from Horncastle, have been running Walking Women, a travel company, for two years with their friend Helen Oliver, and have arranged walking holidays across the globe since then.
And now, the ladies are planning to introduce a new walking holiday right here in the Lincolnshire Wolds, and are on the look out for an experienced female guide to come and host a walking tour.
The travel bug hit for Ginny when she and Helen went off travelling around South America when they were 20.
"Travel has always been a passion of mine, then I went into teaching and worked in education until 2020 when the pandemic happened," Ginny explained, "I thought there's another way of working, and then I heard that Walking Women was up for sale and myself and Sara decided to take it on."
The sisters started running Walking Women in 2021, which offers walking holidays, across the UK, in Europe, and even further afield including India, Canada, and Africa, ranging in length from day trips up to 12 days.
Helen then came on board as part of the support team as a rep, and Walking Women has gone from strength to strength ever since.
"We're all in our later stages of life and we wanted to show that you can do things in later life," she said, "We've got women who come on our holidays who are in their 50s or 60s who have just retired, ladies who are widowed, those whose husbands don't want to do the same things that they do.
"We're also really good if women don't want to holiday alone, they can come and join us."
Ginny said that their most popular tour is Norway for the Northern Lights, and now Walking Women is hoping to come back home to Horncastle and start offering walking tours of the Wolds next year, back where it all began:
"We've always said we pride ourselves on going along the path less trodden, and the Wolds are so beautiful and the Fens are lovely, but so many people don't even know they are there," she said.
Ginny and the Walking Women team are in need of an experienced female walking tour guide who can help to lead walking tours of the Wolds.
If anyone would be interested in joining the team to lead walks of our stunning Lincolnshire Wolds, call the team on 01784 664063 or email [email protected]