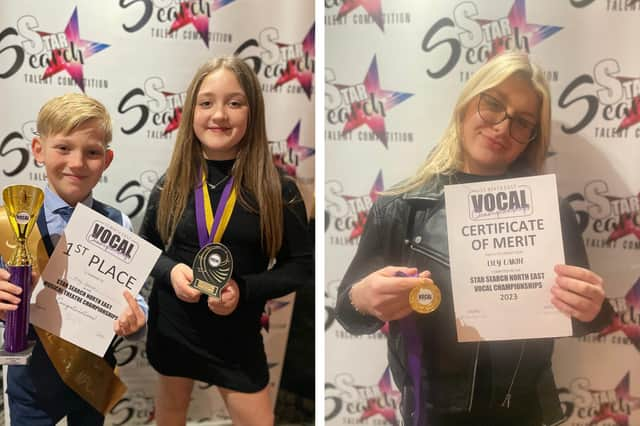 The trio – Riley Beeson, 11, from Wrangle, Lily Lakin, 17, from Sutterton, and Bella Mustill, 11, from Sibsey – were among those to take part in the Star Search event in Hartlepool earlier this month.
All are students at The Biz, of Enterprise Way.
Riley finished first in the Musical Theatre under 12s category, performing Requiem from Dear Evan Hansen. In the Open Vocal Championship under 12s category, he made the semi-finals with Traitor by Olivia Rodrigo, finishing fourth.
Bella made the semi-finals in the same categories, finishing fifth in the Musical Theatre category with Dead Mom from Beetle Juice and sixth in the Open Vocal Championship category with I Have Nothing by Whitney Houston.
Lily, meanwhile, made the semi-final in the Open Vocal Championship over 12s category, singing Warrior by Demi Lovato, finishing sixth also.
Director Samantha Beeson said this was the first time the school – which launched in 2008 – has entered students into a competition.
"To walk away with so many medals and a win was amazing," she said. "We are so proud of how well the students performed on the day and they were great representatives of our school."
The week before, Riley and Bella had the chance to perform for West End actors Carrie Hope Fletcher and Joel Montage. They were selected from audition footage for the virtual workshop.
"Bella had amazing feedback on her vocal ability and Riley made Carrie cry with his emotive performance," Samantha said.