'We did it': Skegness group helping homeless brave elements for World Sleepout Night
The faced temperatures as low as 3C, strong wind and driving rain - but the team from Skegness who took part in the World Sleepout night completed their challenge in high spirits.
As many locals are settling down in the warm to watch television, 10 members of the Facebook group Skegness Clean Start started their night out in the cold - like thousands of others around the world..
Organiser Kelly Andrews, of Skegness Clean Start, announced at 5am:: "We have done it the group together - well done everyone.
"Thanks to Ali BaBa Q for bringing pizzas.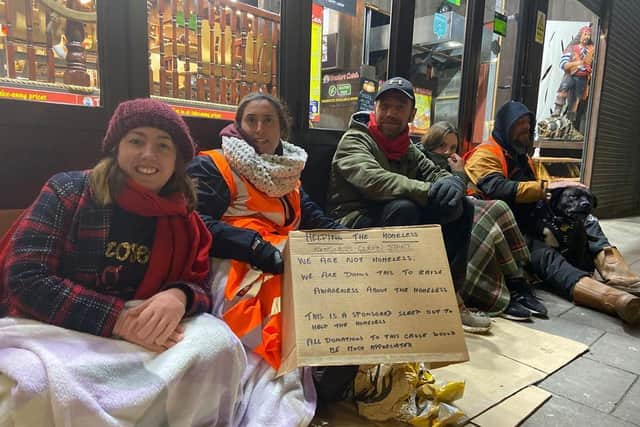 "The people who have turned up with drinks etc and cars pulling up to donate has been heartwarming knowing - so many in Skegness care and follow us."
The Skegness Clean Start group set up in their sleeping bags and duvets in two locations along Grand Parade, joining over 50,000 people across the world to raise awareness for homelessness and a show of solidarity.
The group was launched after Kelly and her son took a homeless man a drink he told them he had had his blanket and tent stolen.
Inspired to help the person and others like him, Kelly started Skegness Clean Start - and now helps all vulnerable people.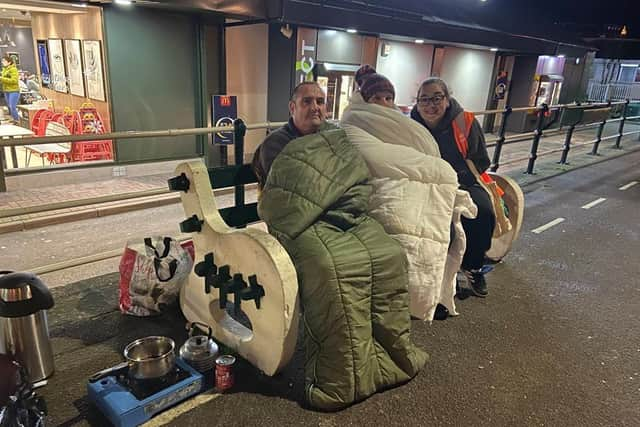 Jay Haxby explained: "We are a self-funded homeless help group and are raising funds to keep helping vulnerable people in crisis."
During the evening there were messages of support on the Skegness Standard's Facebook interview with the group.
Donna Revill commented: "Rain coming down but the temp says 9 degrees but feels like 4. Raising awareness is great for the homeless as they face this every night with no end in sight. Hope all goes ok tonight ."
Michelle Morris said: "Stay safe guys. Feel so sorry for anyone having to sleep out. It's wet, cold and miserable tonight. "
Chloe Kitchen commented: "Well done mum, dad and other guys.. you're all doing so well on this cold windy night."
Julie Sadler said; "It's actually 10 degrees at 1.58am this morning...it's raining but it isn't cold I've just come home.. Yeah I'm lucky to have a home...I feel sorry for those less fortunate than myself. Be safe."
And David Stephen said: "If we help at least one person that's one life that has been made better by an act of kindness. We cant change the world but we can all change our attitudes. All it takes it a random act of kindness every day."
However not everyone supported their efforts: One person commented: "Can't see what you all going to achieve.
"Yes it's cold raining and horrible out there. Who is going to alter the situation? No one has the time. inclination or money to alter the situation. I feel for them but without government help it is never going to alter."
East Lindsey District Council says it is continuing to make progress in reducing the number of people sleeping rough in the district.
Michelle Howard, Director at East Lindsey District Council said: "East Lindsey District Council has made continued progress in collaboration with a rage of partners, in reducing rough sleeping across the district.
"All Local Authorities carry out an annual rough sleeping 'snapshot' of a typical night per year – for 2019 this snapshot figure was eight, a reduction from 18 in 2018.
"Currently ELDC has been able to secure accommodation for all individuals known to be rough sleeping across the district and is committed to ensuring that nobody needs to sleep rough in East Lindsey."
The shelters along Skegness seafront which have been used by the homeless are currently going through a deep clean as part of the winter maintenance programme. "Nobody has been displaced as a result of this programme of work." said a spokesman.
You can support the Skegness Clean Start group's sleepout from 7pm to 5am by donating in the buckets on the night or by Paypal emailing buckets on the night or PayPal payment [email protected]
If anybody is at risk of sleeping rough, or knows of someone who is; please contact either the P3 street outreach team on Freephone 0808 2810280 or ELDC on 01507 601111.
* For the full story and pictures - and what a homeless man sat on the street close to one of the groups thought of their efforts, readt Wednesday's Skegness Stahndard.