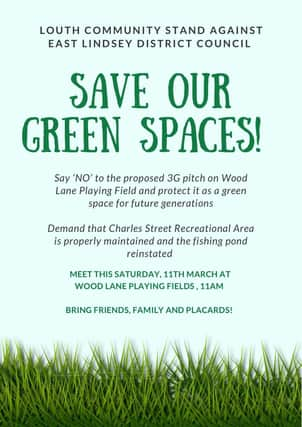 After the news emerged of plans by East Lindsey District Council to build a 3G pitch on Wood Lane playing fields, residents were decidedly divided on the plans.
The plans would see the football pitch replaced with 3G synthetic turf surface, and with an accompanying perimeter fence, floodlights, storage container, new hardstanding areas, and a footpath.
Resident James Timson, who lives near the playing fields, contacted the Louth Leader concerned that ELDC's plans would mean the loss of one of the town's last remaining green spaces, and that "destroying a public one to create a private one is criminal".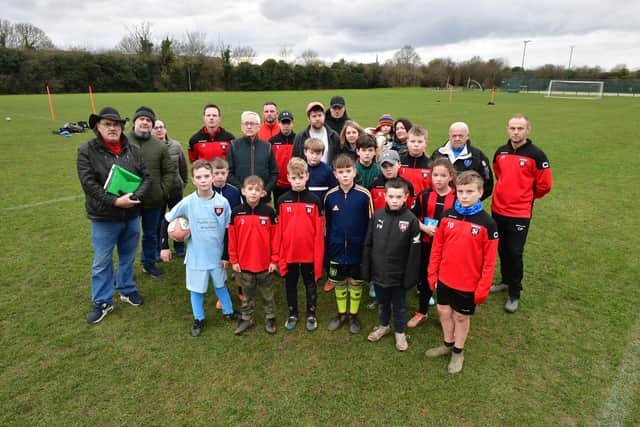 And now a group of residents have organised a protest, named 'Louth Community Stand Against East Lindsey District Council', on Saturday (March 11) at 11am at the playing fields, which will see residents urging ELDC to protect Louth's open green spaces by ditching the plans for the 3G pitch, and also to properly maintain Charles Street recreation ground and reinstate the fishing pond.
One of those organising the protest is Louth Town Councillor Lynne Cooney, who said: "We want ELDC to take responsibility for Louth's green spaces and to not sell them off.
"We're worried about the environmental damage, the noise pollution, and the levels of traffic and attempts to park as the car park will be too busy.
"It's very much an elitist project as people will have to pay to use it, which it will exclude those young people whose parents can't afford to pay for them to use it – not to mention it excludes people wnating to play cricket or rounders, or use the space to walk their dogs."
Coun Cooney said that the protest is showing people "We're saying to the community - these are your green spaces", and how much taking away these two green spaces would affect the town's youngsters:
"Have we learned nothing from the pandemic about how important getting out into green spaces is for our mental health," Coun Cooney added, "If people are deprived of somewhere to meet people and have a chat, it's going to be detrimental to their mental health.
"People have a go at young people because they are causing a nuisance, but if you take away green spaces for them to meet and play on, where else are they going to go? We need to give them that green space."
An East Lindsey District Council spokesman said that ELDC is still "very much working" with Louth Town Council on this, who are considering whether to take it on as a community asset.
"The Council will soon be meeting with Louth Town Council as we explore further options with them to see what more valuable and productive uses the Charles Street Recreation Area could be put to as we go forward," the spokesman added.
In relation to Wood Lane protest, the spokesman said that views from the public will be considered as part of the planning process:
"We are pleased to be able to put forward this application to invest in a new artificial grass football pitch at Meridian Leisure Centre, part of our continued commitment to improving sporting and recreation facilities across East Lindsey.
"There is a clear demand for more modern, year-round, all-weather football and sporting facilities in Louth, and we hope that offering new pitches and training areas within the same space can help to increase access and participation and offer an enhanced place for residents of all ages to play, exercise and socialise together."