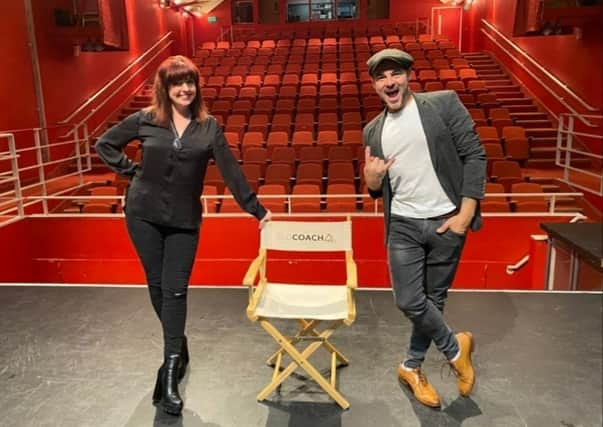 Sharon Sexton and partner Rob Fowler are award-winning West End performers, and played a major role in the creation and the performance of lead roles in 'Bat Out Of Hell: The Musical', working with composer and playwright Jim Steinman and even Meatloaf himself.
Sharon and Rob had been in the middle of a national tour of 'Mamma Mia!', playing the lead roles of Donna and Sam, which was showing in Hull New Theatre at the time of the first national lockdown last March.
Their final performance, on March 16, was one of only two stage shows in the country to go ahead on that night, as their dressing rooms were 'sub-stage' and nobody was able to get in contact with the team to let them know that the West End had gone dark until the audience were already seated.
Sharon explained: "We knew before the audience, so that was quite a surreal experience! We did it, but we knew that it was going to be our last show.
"We found ourselves in Hull, and at the time we weren't sure if (lockdown) was going to be just be two or three weeks.
"But after a couple of weeks of being in Hull, in touring accommodation, it didn't look like things were going to reopen so we decided to find a base somewhere.
"We had planned to be on the road with work for about two years, so we didn't have a lease or a property.
"We had a little search on Google, looking for a town with a bit of greenery. Somewhere peaceful, but not in the middle of nowhere - and we found this lovely long-term rental place in Louth, near St James' Church."
Sharon added: "After two or three months here, we just thought that we love it here, it's really peaceful. It has such beautiful surroundings.
"Anybody that we did meet (during our permitted outdoor exercise) was so lovely. It is such a nice community feeling.
"We decided we should get ourselves a property here. We found a place, and within six weeks, we managed to get it!"
Sharon and Rob's favourite parts of Louth include Westgate Fields, the Railway Walk, Louth Canal, the Gatherums and Hubbard's Hills for walking their dog, in addition to the easy access for the nearby coastal areas when allowed.
With Louth now being their permanent home, Sharon and Rob wasted no time getting involved with the local theatre scene, planning group workshops and classes at the Riverhead Theatre when permitted. They also have a summer concert planned, which they hope will be able to go ahead.
In the meantime, the pair have been performing concerts from home, including a show called 'Vision Of You', with some special guests, that they have recorded for Valentine's Day. Visit www.facebook.com/SharonSextonSings for more information, payment details, and how to stream or download a copy.