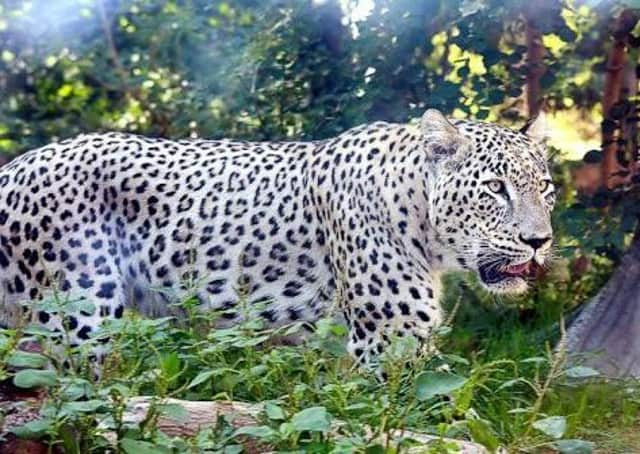 The News can reveal the park will help in a campaign to save Persian and Amur leopards.
The Amur leopard (or the Far Eastern leopard) is classed as critically endangered.
It is native to southeastern Russia and northeast China but according to World Wildlife Fund data, only around 70 Amur leopards survive in the wild.
Encroaching human settlements and poaching are the main reasons for the rapid decline.
Persian leopards are also classified as endangered. Only about 871 to 1,290 mature individuals are reported to exist currently.
The park's joint owners Andrew Riddel and Tracy Walters said they were delighted and privileged to be asked to take part in the conservation programme.
Mr Riddel recently told the Horncastle News that the biggest threat to the world's animal population came from humans.
The park is also part of another breeding programme, this time to help re-establish red squirrels in Lincolnshire.
Red squirrels have been forced out of many areas of the country by the more aggressive grey squirrel.
Mr Riddel said: "Conservation is a massive part of what we are doing.
"It's not just about the zoo – we want to make a difference and do everything we can to help save animals.
"Ask yourselves how many of the animals we see today will still be around in 20 or 30 years?"
The breeding programmes are only part of a series of developments planned for the coming months, aimed to enhance the park's reputation as one of the most popular new attractions in Lincolnshire.
Mr Riddel and Ms Walters confirmed two male Royal Bengal Tigers will arrive next month.
The tigers are currently owned by Jim Clubb, a former circus trainer who now trains animals for film and TV work and keeps various big cats at the private Heythrop Zoo in Oxfordshire.
Like Mr Riddel and Ms Walters, Mr Clubb recently appeared in an TV documentary fronted by Ross Kemp about the UK's keepers' of big cats.
Mr Riddel said: "The tigers will be here next month and because they are coming from within the UK, there's no quarantine period."
The park's former Royal Bengal Tiger, Syas, had to be put down in February 2020 because of worsening joint pain.
Mr Riddel also confirmed the park was hoping to feature in another documentary fronted by Ross Kemp.
Mr Riddel added: "We were pleased with the programme. Our animals are very happy so why not another documentary? We've nothing to hide."
The park has secured a full European zoo licence which should make it more straightforward to source animals.
The park re-opened to the public on April 12 and Mr Riddel said they were delighted with the number of visitors – and the support and compliments they had received.