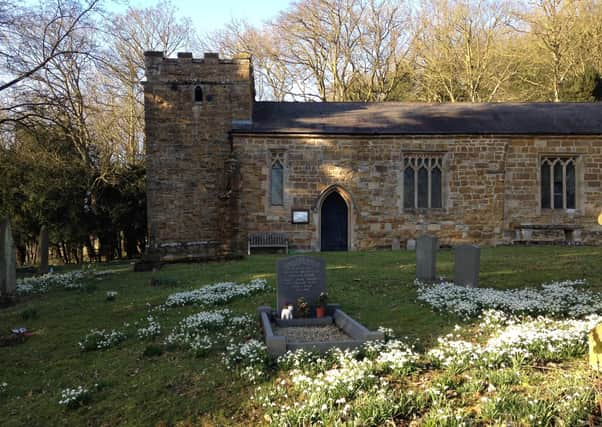 At the moment we are not being allowed to do that– or not in the way church congregations have done for centuries.
Churches without hymns and psalms, are to me like fish and chips without salt and vinegar.
Our village organists may still provide some music, but its not the same as when accompanied by lusty singing.
Present Government guidance is that singing be avoided in public places because of fears about the projection of spittle and microdroplets.
Even Boris had to step in to save 'Rule Britannia' and 'Land of Hope and Glory'.
I fear that the pandemic enforced closure of our country churches is another blow for the church in rural areas like the Wolds.
Many of the 41 churches in the West Wold Deanery have not been able to open their doors since March. It may be that some of those closed during lockdown will not open again.
There is the ever brooding and very serious issue of dwindling funds in the Diocese of Lincoln.
The pandemic is bad enough news at the moment and it must be said that some churches and clergy have coped bravely with innovative ways of being church, using online services that can be watched at home and Zoom which has made its name in many ways this summer.
But it is just not the same as being 'two or three gathered together in one place.'
Sadly, two or three cannot pay the parish share of several thousand pounds that pays for the clergy.
There are ways of exercising our voices alone. Those of us who like hymns can sing in full voice to recorded music at home or alternatively download a cathedral choir.
Songs of Praise on the box each Sunday still goes down well with lovers of the hymnal.
Many people get their theology from hymns sung since childhood.
Ten of us gathered in mid June to attend a family funeral in a country churchyard, where we were allowed to sing – with social distancing – 'The Day though Gavest Lord has ended.'
It was the favourite hymn of the deceased and common sense for once ruled. It was very moving and we did not worry about the projection of spittle – in truth we never gave it a moment's thought!
Footballers have been told they can't spit and cricketers can't use spittle directly to polish the ball, a tactic well proven in making the ball swing.
The ban did not seem to affect Jimmy Anderson too much, so he must have other dark secrets to perfect his art, more likely fantastic talent and a supreme fitness ethic.
At Elsham Golf Club we have been social distancing very effectively since hostilities resumed.
You have to be careful when holing a two-footer not to touch the flag stick when taking your ball out the hole – though such rules do not trouble me very regularly!
Continuing with sport, there were some reported 'volatile projections' in a Greek Island bar one evening. None of the press reports mentioned social distancing abuse!
In these surreal times it seems rather more worries would have been caused by eight worshippers singing evensong without masks at St Luke's Holton le Moor, had they been able to.
I wonder if Manchester United defenders and their friends masked up for their shindig, just as communicants in rural churches have to?
Yes, our prayers must be that churches get back to normal before long, just like life as a whole.
Many churches are open, particularly on Sundays for private prayer, but I fear and heard that a worry with that has been that some folk go for a gossip, chat and cup of tea.
I don't see too much wrong in that though, as too many have been left isolated and lonely through the last few troubled months. Not just the elderly or the sick, but also the thousands of children at last able to go back to school this week...or that is how it stands as I write!
No U-turns meanwhile I hope!