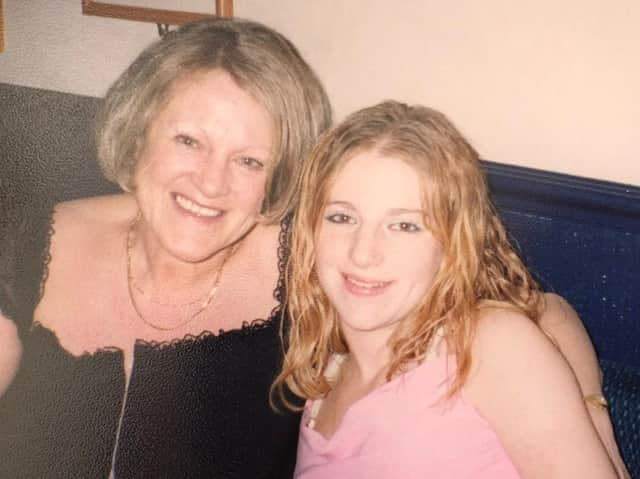 Kirsty Franklin, who admits she rarely goes running, wants to raise money for the hospital which provided her grandmother's end-of-life care.
She is taking on the 100km challenge throughout August to support the SWAN end-of-life care programme.
Kirsty explained: "I decided to do the run for SWAN because when it was my Nana's final days the hospital staff did so much for our family, such as the keepsakes they did with us, and setting up a bed in her room so we could take it in turns to sleep."
Her Nana, Shirley Duke, passed away at the age of 73 in Hayward House, at Nottingham City Hospital, on March 21 – just two days before lockdown began in the UK.
"Even though there was the uncertainty of the coronavirus the hospital staff made sure that we were made to feel welcome," Kirsty said.
"Being able to have that private room gave us all the private time we needed, especially as we are a large family."
Kirsty is taking on the running challenge as part of Nottingham Hospitals Charity's 'Celebrate Summer' campaign, which is encouraging people across the region to support Nottingham's hospitals by taking part in their own fundraising event such as running, cycling or organising a virtual event such as a virtual coffee morning.
"I'm not normally a runner, I just do it now and again, so it's going to be tough! said Kirsty/ "But it will be worth it to see the donations that are going towards Nottingham hospitals.
"My Nana fought hard in her last few days, so 100km is nothing compared to that and the work that the nurses do at the hospital."
Lucy Dalgress, Community Fundraising Manager at Nottingham Hospitals Charity, said: "We're so touched that Kirsty has chosen to take on this challenge to thank the hospital for the care her Nana received.
"We'll be rooting for her throughout August as she completes her incredible 100km!
"This summer we're encouraging anyone who has received care at our hospitals – or has a loved one who has been cared for – to join Kirsty by taking part in 'Celebrate Summer', and supporting their local NHS hospitals by holding their own active, virtual or socially distanced fundraising event."