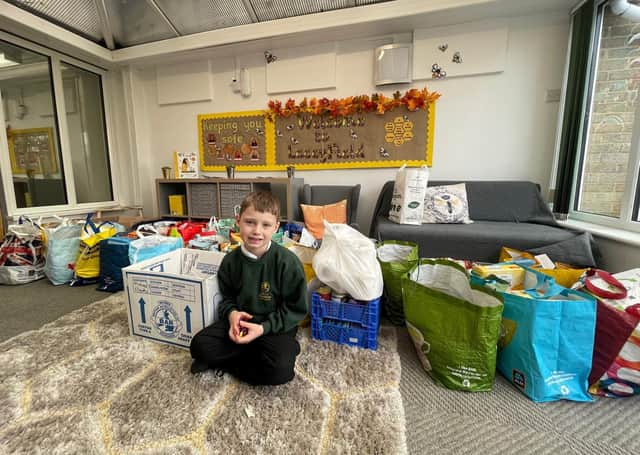 This incredible community resource has been made possible by the overwhelming number of donations that have flooded in from the community and local businesses.
LaceyField – the home of Eastfield Infants and Nursery Academy, and Lacey Gardens Junior Academy - have developed a partnership with the Trinity Centre's food bank.
Year 3 pupil Jimmy Stanley ran 5k, expecting to only receive a few food donations for the food bank in return.
However, Jimmy and his family were astounded by the incredible kindness and mountains of food donated.
He completed the run in under 45 minutes, in late November, and made everyone proud with his efforts.
Jimmy decided to complete the run for the LaceyField food bank, saying that he did so "because my friends shouldn't go hungry, and because I like to help".
His football team Louth Old Boys donated a hat and scarf to keep him warm and applaud his efforts.
Executive Principal Emma Beveridge said Jimmy typified the fundraising spirit at the schools and in their community.
She said:"Jimmy's act of kindness has left all of the children, families and staff at LaceyField Academy incredibly proud!
"Despite the unexpected year that 2020 has presented us with, the children of LaceyField continue to amaze and astound us with their charitable spirit. Just as Jimmy did, they go above and beyond to help!
"The team spoke to Greg at the Trinity Centre Food Bank about how we could contribute to the excellent work that they already do, and we have now created a collaboration. We are very excited for what we can achieve together to support the families and community in Louth.
"On behalf of everybody at LaceyField, I would like to say a huge thank you .
"After such a tricky year, your incredible generosity is gratefully received.
"I'd also like to say thank you to Snape Properties, Morrisons, and the Lincolnshire Co-Op for their donations."
• A public Facebook group, with information and updates all about Jimmy's efforts, can be found by searching "Jimmy's 5k for Laceyfield food bank" on Facebook.